Stumped Concrete
Being an unconventional technology of manufacturing external and internal decorative surfaces, demonstrates how much creative material can be concrete. It attracts attention and simultaneously satisfies the highest requirements. Surface stumped concrete will suit any style of architecture - from ancient to the most modern.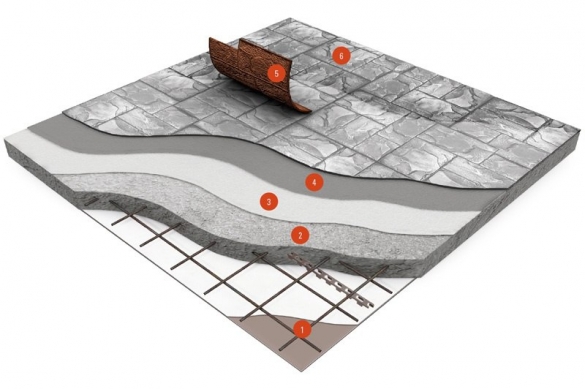 The secret of stumped concrete technology
is the imprint of a certain pattern on a suitably prepared and painted surface of fresh concrete. With a properly designed base and concrete slab, the surface is able to withstand high loads. The materials used guarantee a surface with increased resistance to abrasion, waterproof, frost-resistant and easy to clean.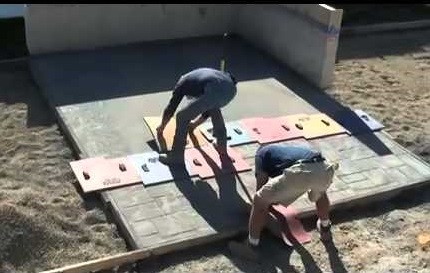 Unique technology stumped concrete
It draws the attention of architects and lay people to the simplicity of the materials used and beauty. Imitating stone, brick, sandstone, Roman paving stone, granite paving stone, stone slab and even deck board surface, as well as combining different shapes and colors, will provide ample opportunities for designers and architects. Unconventional decoration of territories, entrances, access roads emphasizes the prestige of the object and its individual character.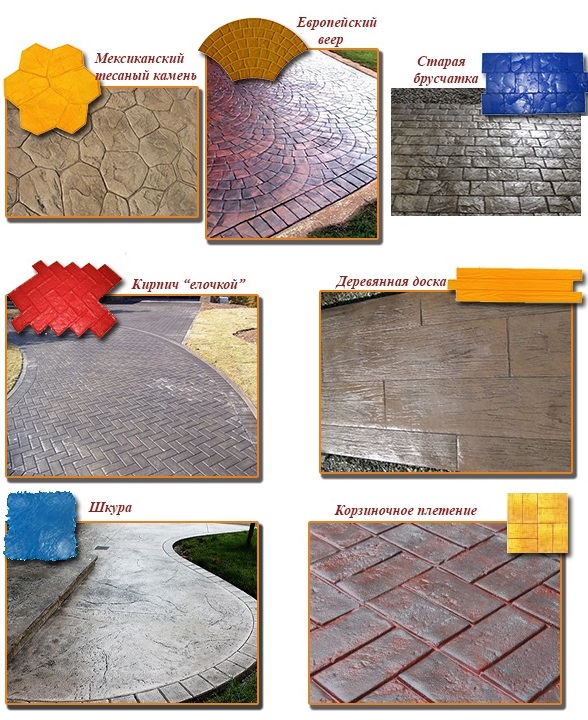 Versatility of stumped concrete
Correctly designed surface provides a guarantee of resistance to any load - from cars to heavy vehicles, buses, etc., allowing you to escape from the monotony of pavers and gray concrete. At the same time, the possibility of thin coating, 10-15 mm layer applied to the existing concrete surface, allows you to create an original design inside restaurants, pubs, etc.. being thus the alternative for various kinds of tiles, parquets and other materials.
Discover the colors and patterns of stumped concrete and create your own design:
These color samples represent only an approximate effect achieved without the applied separator. There is the possibility of various combinations of patterns and colors.
Concrete Decorative Coatings (stumped concrete)
Stumped concrete is a concrete decorative coating, an original technology for manufacturing internal and external surfaces. This solution is suitable for various architectural styles, especially loft style. It is also capable of imitating natural stone, natural copying of various natural materials, for example, sandstone, granite and Roman paving stones, even a deck board.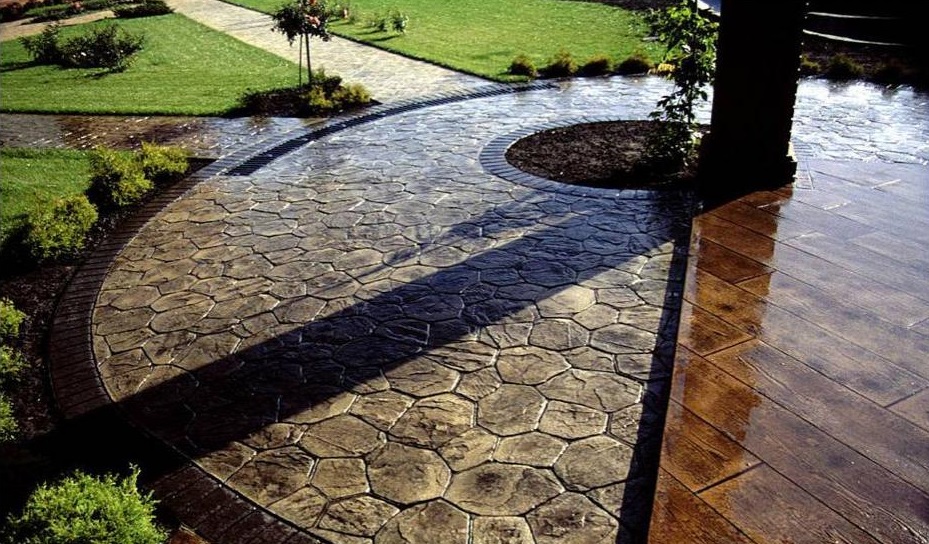 What are the advantages of a concrete decorative coating?
The technology of stumped concrete has many positive qualities, among which the following can be distinguished.
HIGH SUSTAINABILITY TO MECHANICAL DAMAGE AND CHEMICAL IMPACT.
AVAILABILITY OF ANTI-SLIP PROPERTIES, RESISTANCE TO NEGATIVE WEATHER INFLUENCE.
ENVIRONMENTAL SAFETY FOR HUMAN, ANIMALS, PLANTS AND THE ENVIRONMENT.
LONG TERM OF THE TECHNOLOGY SERVICE, WHICH IS CALCULATED BY TEN YEARS.
There are many colors and decorations for concrete , decorative coatings, among which you can easily choose the right one.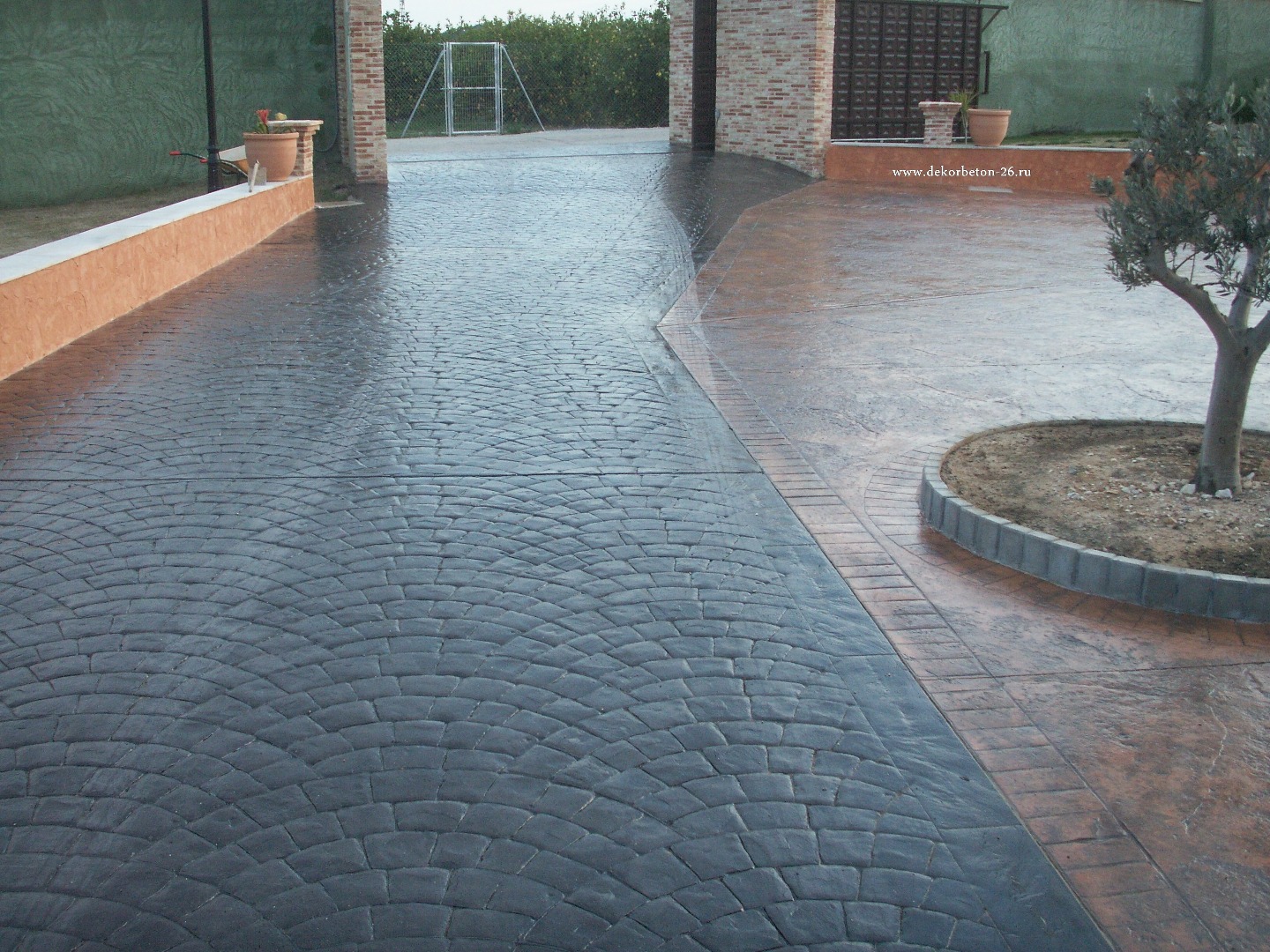 IMPERIAL INTERIORS Company offers supply and installation of stumped concrete floors with different designs and colors.