Epoxy Flooring in Dubai
3D Epoxy Floors - a new technology for flooring manufacturing. An incredibly huge selection of colors, images and materials to create them suggests that this method is a promising device and popular lately.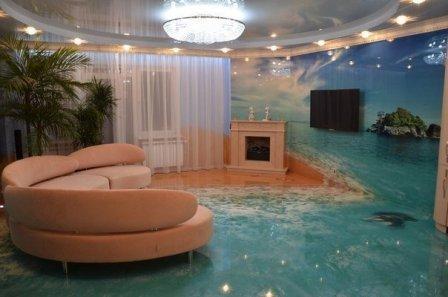 NOW WE ARE OFFERING 3D FLOORS, DECORATIVE FLOORS, 3D CEILINGS, 3D WALLS
GROUP TRAINING
What are 3D Liquid Floors?
Decorative flooring - it's not just a picture, a large-scale art object, which fundamentally changes the idea of ​​what might look like flooring. On the one hand - it's surface, and the other - a whole image, with all shades and textures. Strong and durable coating on which man walks in the room can be a beautiful, creative and unique with the help of Epoxy Flooring System .
3D technology developers hardly imagine how varied and interesting their ideas are for the future. Today 3D floors do in shopping malls, large halls, office buildings, apartments; many people event trying to do it with their own hands but its only can be don by specialists and quality materials. This is explained not only external beauty of the floor, but also its performance.
Environmentally friendly. Its structure resembles a decorative stone floor. Therefore, no caustic odors or fumes from the cover, there can be .
High strength and longevity. When installed correctly by professionals, the floor filler retain their properties for a long time. Color, gloss and smooth surface will not disappear over time and do not fade. A shoe studs, heavy furniture and dirt will not compromise the integrity and appearance of 3D floor.
It is easy to care floors. No cracks , voids and small clearances makes the coating is impervious to any dirt, dust, water, and chemical agents. 3D Floor filler survive even prolonged exposure to abrasive particles and chlorine. Any cleaning (wet or dry ) does not present difficulties and will not take much time.
Liquid 3D floors appeared relatively recently - just a few years ago. The first place they were laying new hotels, offices and shopping centers, appartments. And many are mistaken when they think that the apartment decorative 3D Floors can only be used in the bathroom or toilet.
Scope of application 3D floors:
Public and administrative buildings;

Stairs, corridors, playgrounds;

Car showrooms, garages, parking lots;

Shopping malls, shops, boutiques, offices;

Hotels;

Bars, clubs, cafes and restaurants;

Laboratories, clinics, hospitals, medical centers,

Schools, kindergartens and institutions;

Town houses, vllas, apartments, private houses;

Exhibition halls, theaters, galleries, museums;

Pools and much more.
In fact, epoxy flooring is suitable in any room. Today, 3D floors are mounted not only in public institutions, hotels, banquet halls and cafes. This is normal for small-sized apartments and even villas.
Because of their unique aesthetic and external visualizations, polymer screeds 3D floor solves many design problems of any premises:
In small apartments properly chosen colors and images visually enlarge the space.
In large rooms and lobby they become part of the interior, its twist. Imitation wood, stone complex textures, the presence of various materials (coins , stones , sculpture , sequins and other ) allow us to make the floor a WORK OF ART.
Multilayer structure and different ways fill decorative floor became a new word in the layout and design of any premises - from the toilet to the hotel lobby and waiting room airport.
In various styles and directions, such as high-tech, abstract classicism and even 3D floor filler allows you to implement the most irrepressible imagination and designer and owner of the house.
Oddly enough, many just using 3D technology coatings give vent to their creativity.
Ability to use gender as advertising, information booth, galleries allowed many companies and firms to create the finished look of the room.
After all, the logo on the floor always draws attention. And if he still has the ability to render 3D , then it is not just a logo - it's aerobatics design ideas .Incredible opportunities flooded floors allow the use of 3D image quality your own photos or finished wallpaper. Home or office such images often become the main link in the interior. It is not the floor to pick up the color of the walls and furniture, the whole interior is matched to the floor.
Features of 3D Floors
Self-Leveling 3D floors - a floor covering that is not just have numbers, but by themselves is drawing or image. Roughly speaking, the image under the translucent layer, which, moreover, also the floor. The most commonly used visual images appear ready prints . They are printed on a special photo printer on the set sizes . Therefore, for any size room can choose a favorite pattern.
3D floor composition is as follows:
Two - companent mortar;
Two-companent primer;
Two-component stucco;
Self-leveling screed;
Lacquer;
Image (photo, drawing independent of ink or paper... );
The transparent two-component polymer;
Protective lacquer.
Also the structure may include a variety of decorative "stuff" - coins, figurines, pieces of material, and the like. All this will determine the future overall design and floor space as a whole.
If we talk about the features of self-leveling floor, then they should include more technology fills than the final result. The installation process is time consuming and requires patience. That is why the services wizard laying decorative floor are sometimes more expensive than the floor. Unlike many other epoxy flooring companies in Dubai we always execute the order within a stipulated time.
Price for 3D floors
The cost of 3D self-leveling floor depends on several factors:
Size of project area (we usually divide the area up to 500 m2 and more than 500 m2);
The base condition;
The type and design of 3D Floor or Decorative Floor;
The complexity of the work and type of work.
Today, its price range start from 100$ up to 550$ per 1 m2. This cost includes materials, use pattern (3D image, the cost of paint ...) base preparation and installation work.
Types of floors
Monochrome floor systems can be both glossy and matte color is chosen according to the international color catalog Ral :
Single color floor system
Multi color floor system
Metallic single color floor system
Metallic multi color floor system
Chemilion floor system
With decorative elements chips, glitters
Self-leveling floor system with patterns of varying complexity, from the graphics up to the screen exclusive works of the artist versions topcoat may be glossy and matte
2D floor system floors containing a picture of all sizes and formats, it is recommended to leave only the glossy, as haze blurs the boundaries of the image, a glossy topcoat can add glitter that will add spice coating
3D floor system, essentially the same as the 2D floor, but the highlight in image processing, image proportions are changed (Figure drawn in perspective) and the image when viewed from the correct angle and the point becomes three-dimensional variant of execution extremely glossy finish.
Stancils floor system
Quartz-filled floors system, based on quartz sand painted in different colors, versions, glossy and matte
VIDEO GALLERY
1
2
* At Imperial Interiors we are constantly updating our information , please check back here to ensure you have the most up to date information
FOR MORE 3D FLOOR PROJECTS PLEASE VISIT:
OUR GALLERY
BE AWARE IN INTERNET MANY FAKE COMPANIES OFFERING 3D FLOOR TRAINING !!!