NEWS
People talk about us here:
https://www.toysforbigboys.com/3d-flooring-imperial-interiors/
http://www.boredpanda.com/3d-floors-epoxy-imperial-dubai/
http://www.digitaltrends.com/home/imperial-interiors-makes-crazy-3d-floors/
http://www.psfk.com/2015/05/3d-flooring-self-leveling-screed-interior-design-imperial-interiors.html
http://www.mirror.co.uk/news/weird-news/incredible-3d-tiles-turn-kitchen-5643811
http://www.lightersideofrealestate.com/real-estate-life/cool-stuff/latest-home-design-trend-in-dubai-3-d-floors-but-will-it-make-a-splash-in-the-us
http://www.lifebuzz.com/3d-bathroom/
http://www.awesomeinventions.com/3d-bathroom-floors/
http://aplus.com/a/3d-bathroom-floor-design
http://www.demilked.com/interior-ideas-3d-epoxy-polymer-floors/
http://www.housebeautiful.com/design-inspiration/news/a3732/3d-floors/
http://www.fubiz.net/en/2015/05/11/aquatic-3d-floor-in-the-bathroom/
https://www.biznessuae.com/bz-37192/imperial-interiors/home
https://laughingsquid.com/photorealistic-3d-illusion-flooring-by-imperial-interiors/
http://www.homecrux.com/make-your-house-look-like-an-ocean-with-3d-epoxy-polymer-floors/32978/
https://www.index.hr/magazin/clanak/Ovo-je-novi-uvrnuti-trend-u-uredivanju-interijera/825955.aspx
https://metro.co.uk/2015/05/03/forget-tropical-holidays-these-3d-bathroom-floors-will-blow-your-mind-5178904/
http://imged.me/img/
https://trendbeheer.com/2015/06/27/imperial-interiors/
https://www.stuff.co.nz/life-style/home-property/68959968/3D-floors-turn-kitchens-bathrooms-into-art
INTERIOR STILE
MODERN

The creation of the modern interior design style is credited to a group of European designers that started the Bauhaus School of Design in Germany in 1919. The Bauhaus philosophy is that form and function should combine in all designs. Modern Style design is clean-lined and focuses first and foremost on function and avoids the excessive accessories and decorative elements seen in many other styles. Some people feel the modern design is too simple, harsh or cold, however when well-planned it can promote a sense of calmness and simplicity to your home.
The modern style is ideal for apartments and small spaces as it maximizes space and creates the impression that a room is larger than it actually is. Minimal textures and bold geometric forms, neutral colors accented with a single bold color along with polished finishes and asymmetrical balance are key identifying features of modern style interiors.
To recap, the main characteristics of the modern interior design style are...
Clean lined design
Function before form.
Avoids excessive accessories and decorations
Minimal use of textures
Asymmetrical balance in furniture and layout
CONTEMPORARY

The terms modern interior design and contemporary interior design are often used interchangeably, however there is a difference between the two. Contemporary interior design can only mean trendy looks that are in style at any current moment, while modern interior design refers to the specific geometrical, clean-lined style called modern. The fact that the modern style may also be a part of a current look or trend adds to the confusion between modern and contemporary.
Contemporary interiors are comfortable and welcoming without being cluttered and dark and is a style that is equally appropriate for offices and stores, lofts and homes. A contemporary style home can be a quiet and comfortable retreat. The key identifying feature of a contemporary style interior design is line. Line can be used through the use of bold color blocks, high ceilings, "square" edged furniture, linear wooden floors, floor mats, bare windows and geometric shapes in wall art and sculpture. The bare space, on walls, between pieces of furniture, and above in upper areas also become just as important as the areas filled with objects. Each piece stands out as individual and unique.
Smooth, clean, geometric shapes are essential for contemporary style furniture pieces with upholstered furniture usually in black, white, or another neutral tone. These pieces should be simple and uncluttered, without curves or decoration. Sofas, chairs, and ottomans usually have exposed legs with Beds and chairs usually having no trims or tassels. In conclusion, with contemporary interiors, less is more. Go basic, bare, bold, and structural with bespoke, unique and individual furniture.
To Recap, the main characteristics of the contemporary interior design style are...
Refers to in style or trendy looks.
Basic, bare but bold.
Negative space as important as objects
Smooth, clean and geometric shapes essential.
Bespoke and unique furniture.
CLASSIC

Classical interior design is based on order, symmetry and balance which relates to the ideals of the Greek and Roman empires. A primary element in classical style is the use of a focal point around which visual balance is achieved, for example a feature fireplace flanked on either side by matching armchairs with an ornate mirror above. The color palette common to classical interior design style is often inspired by nature. A variety of yellows, blues, greens, browns as well as softer, muted hues like terracotta's, grays and pinks are commonly used. When accenting with whites, choose off-white if you want to stay in keeping with a more authentic classical color palette. Choose bright white if you want a slightly more contemporary feel instead.
Fabrics used in classical interior design style tend to be elegant without being overly ornate or attention grabbing. Cotton, canvas and velvet are some commonly used in classic interiors. Natural flooring of wood, stone or marble works best in the classically styled environment as they relate well to the natural color schemes used.
The key identifying feature of the classic style is symmetry with each side of the room mirrored on either side of a central focal point. Columns are also a feature of classic design, relating back to Greek and roman architecture, and as such vertical, tone-on-tone stripes on the walls or curtains can represent this. The use of classical ornamentation can also be used to identify a room as being of the classical style.
To Recap, the main characteristics of the classic interior design style are...
Order, symmetry and balance are key.
Room ordered around a focal point, such as the fireplace.
Natural colors and materials.
Elegant fabrics.
RETRO

Every few decades, old designs seem to make a comeback, but with a modern twist. This is referred to as the Retro style, and is an eclectic mix of old styles and new forms, or new forms with old materials and finishes. The post war fifties and psychedelic sixties saw a move towards brighter and bolder colors most likely as a backlash to doom and gloom of the war torn forties. Nowadays Retro interior designs can be described as taking a little bit of these features and bringing them back into the present in order to create a new style of interior design that is both modern and fun.
As there is so much to choose from past styles, what you decide to include will ultimately be your own interpretation of the past, and will therefore be entirely unique and individual. During each of the past few decades there have been different materials, shapes, colors, artifacts, and gadgets that have left a lasting impression on all of us, some of which may be significant in the memories from our childhood and may therefore be more suited for your personal Retro style. Nowadays, anything from the 50's, 60's or even the 70's is fashionable again. However, because there are so many different ways to go about incorporating a Retro interior style into your home, it can be difficult to recognize it when you see it. The key identifying feature can therefore only be described as an old style with a modern twist.
To Recap, the main characteristics of the retro interior design style are...
Reimagined existing designs.
Eclectic mix of materials.
Classic objects used.
Can be difficult to recognize.
GEORGIAN

Early Georgian style was the tail-end of Queen Anne design, and this gradually became more severe in its lines and architectural detail. The style was copied from Ancient Greece and Rome; however a lot of Chinese design showed through in the interior. Chinese motifs like peonies and chrysanthemums were found in the fabric and Chinese porcelain and motif table lamps were common. Color schemes were pale and subtle cream, dusky rose, sage, pea green, powder blue. Floral were also found, and in grander houses, gold and murals were the preferred wall coverings. Upholstery and curtains often had matching fabric.
The Georgian interior design style is characterized by delicate furniture with elaborately carved cabriole legs, ball-and-claw feet, broken pediments, ornate carvings, piercing and gilding. Fabrics were luxurious, with colors and patterns kept subtle. A royal style extended into common houses with cabriole legs and claw feet on chairs and baths creating an almost throne-like feel. Mahogany slowly replaced walnut as the wood of choice. The fireplace was the heart of the room and was often fully outfitted with cast iron, carved pillars and medallions, and an opulent fire screen.
To Recap, the main characteristics of the Georgian interior design style are...
Copied from Ancient Greece and Rome but with Chinese influences.
Decorative porcelain and luxurious fabrics as features.
Motifs like peonies and chrysanthemums used.
Color schemes were pale and subtle.
Cabriole legs and claw feet on chairs and baths.
Fireplace at the heart of the room.
VICTORIAN

The Victorian style originated during the Victorian era and is often described as opulent and luxurious. Victorian style is the near opposite to minimalism, it is based on an excessive amount of ornate and flamboyant decorations, accessories, the more you have on display the better. But Victorian style also includes features in order to avoid clutter. The excessive decorative furniture and ornament are contrasted by plain floor and wall surfaces.
The Victorian Style uses deep hues, pastels and neutral colors contrast the rich textures against the bright shades in upholstery and wall coverings. Exotic materials and heavy woods became available during Victorian era and were used extensively in the furniture of the time but today you can find pieces of Victorian style furniture in cheaper materials. This has seen a recent revival in the style with a type of modern Victorian style emerging.
To Recap, the main characteristics of the Victorian interior design style are...
Opulent and luxurious with excessive decorations.
Walls and floors kept plain to contrast decorative features.
Decorative but uncluttered.
Deep hues of pastel and neutral colors.
Exotic woods used in furniture.
URBAN
Urban interiors feature nontraditional home materials and design features, often including objects that are more traditionally used in an industrial sense. The Urban style sees the use of galvanized steel, concrete floors, metal siding, exposed beams and unfinished surfaces to create a distinctly modern, bohemian look. Often random, nonfunctional (in household terms) objects are included in Urban interiors to create an outdoor or industrial atmosphere. In more upscale urban interiors, however, the look is far more polished, with bespoke fixtures, sophisticated finishes and clever small space solutions, such as open floor plans that allow for multifunctional rooms.
This alludes to the central function of urban interiors which is to create space, sometimes in surprising ways. Combination living/working spaces have become traditional in inner cities and industrial areas, often referred to as studio apartments. Renovated warehouses might feature a concrete floor for large scale artwork or production and an upper loft for a living space. Industrial building converted into high-rise apartments, upscale condominiums and mixed-use buildings are other innovations to urban living spaces and rather that fighting the existing industrial feature within these spaces urban interior design embraces them.
To Recap, the main characteristics of the urban interior design style are...
Use of industrial materials.
Exposed structural materials used as a feature.
Unique (nonfunctional) objects used as features.
Aims to create open space.
Often seen in converted buildings.
COUNTRY

Country style interior design is cozy bearing the resemblance of cottage style. There are many various culturally different country style designs that have the features of the time and style that was traditional to those countries. Thus you may find such country style types as French country, English country, American country, Italian country or Tuscan, and Modern country. Each type of country style has taken characteristic features of the culture it was used in. English country is relaxed and comfortable incorporating many floral patterns as well as stripes and plaids. Natural light wood, such as oak, is used throughout the English country styles. Open space is not considered important in the country style with large furniture pieces often dominating a space with the walls often decorated with a variety of pictures, utensils or other objects.
French country style is characterized by deep and bright colors - aborigine, lavender, yellow, azure blue. Colors are built into floral and animal patterns. The furniture is robust and basic. Italian country style, also known as Tuscan is warm and rustic. It incorporates such colors as ochre, terracotta, golden yellow, and green. The flooring and fireplaces are made of natural stone. Unfinished wooden pieces and textured walls accentuate the rustic feel. American country style has its main feature in simplicity. The furniture can be stained, painted or unfinished. Modern country style has an updated look. Incorporating modern art, furniture or lighting into the traditional design makes it more up to date but still cozy and lived-in.
To Recap, the main characteristics of the country interior design style are...
Cozy and comfortable but sometimes cluttered.
Traditional to the context, e.g. French Country, American Country etc.
Natural and floral patterns used with plaids and stripes.
Robust, bulky furniture.
Rough finishes on materials.
HIGH-TECH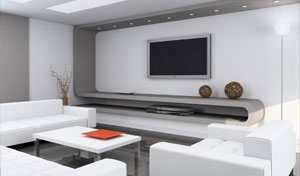 For those who clearly knows what he wants from life , whose world is concrete and removed . Man - an intellectual , his house - excellent thoughtful space. Well-established system , ordered and calm feeling . It is an ideal future where nothing is superfluous , everything is functional and lives in unison with the Boss home. Logic and no frivolity , restrained emotions and order. You live a few steps ahead of the others , and each household trifle perfected . Life surrounded by smart and reliable things well established mechanisms created by the Master for comfort .
ROCOCO

The Rococo style of interior design is flamboyant and rich with intricate and ornate features. Rococo style peaked during 1700 and 1780 in Western Europe and the name Rococo means 'recalled' in French, which is appropriate as the Rococo's ornate asymmetry was inspired by natural curves of trees, shells, clouds and flowers. Gold plasterwork is one of the key features of Rococo decorating style with lavishly decorated walls and ceilings featuring the contrast of pastels and gold. The use of mirrors was also a feature of Rococo Interiors and they were usually had intricately-shaped, gilded frames.
Rococo furniture is made of mahogany wood or gilded and upholstered in leather, brocade or velour. It also has carved and sinuous silhouettes that complement the wall and ceiling finishing, which strengthened the ornate theme. Rococo was known for such colors as yellow, pink, ivory and gold, azure blue and cream. The combination of pastels and gold is a signature mark of this style. Rococo style favored curved lines so previously used asymmetrical square lines and forms were replaced with circular, oval, spiral and natural forms, even rooms were designed in oval shape or arranged to avoid square form.
To Recap, the main characteristics of the rococo interior design style are...
Flamboyant and rich.
Lots of intricate, ornate, decorative features.
Gold painted plasterwork contrasting with pastel wall colors.
Multiple ornate mirrors commonly used.
Expensive materials used in furniture, e.g. teak and mahogany.
Curves, spirals and ovals are dominant.
GOTHIC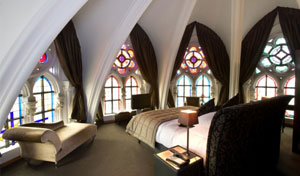 Probably not suitable for cheerful natures adoring lots of sun and light , alas. Well, everyone has their own taste, maybe someone sees himself as Dracula or the owner of Knights Castle . This style involves arched doorways , arched stained glass windows and a massive dark furniture. This sturdy home fortress for strong -spirited people , and not without romance and pull everything mystical . In the evenings, a good read old books have carved fireplace and cooking magic potions . Residence for aesthetes with exquisite taste and are not afraid of ghosts.
ECLECTIC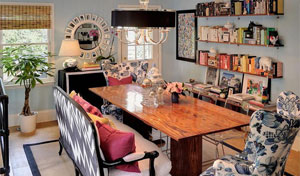 " What a wonderful thing ! It fits perfectly in the corner of the table of mahogany ! Yes, and it wicker pots , we also take the color is unusual. And out of the blue elephant too. " Familiar? Can congratulate yourself , you - unknowingly collect eclectic style , the principle of which - " I like it all! ". Of course, not everything is so simple . Score random junk room - it's not quite the style , it's dustbin . The ability to combine textures, colors and shapes not given to everyone , so consult with professionals to be disappointed once : " Like all good , and with something not throw ... what? "
KITSCH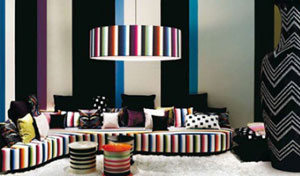 For the most daring and creative personalities who are not afraid to be like everyone else . Do you want the best of everything at once? Easily. This style can be totally liberated and equip their housing as a wild imagination will tell. And why is it impossible to combine yellow plush chairs with silk red wallpaper with gold thread ? A colorful grid hang on the ceiling? And a pot of cacti put up near the Venus de Milo in full size. Who said that it's ugly ? Beautifully same ! And most importantly - unusual, original and this just no one else has , and envy .
ENGLISH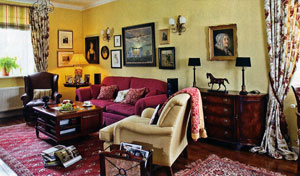 On the wall in heavy gilt frame - portrait of a man with a solid majestic bearing . "Our great-grandfather - proudly say guests. - But this library collected our grandmother , see? ". In this house will always be the connection to time and generations , things of the past are carefully stored in the memory of ancestors. Old books , high leather chairs , fireplace , classic landscapes on the walls - the style of reliability, security and confidence . Each piece of furniture knows his place . There will never be plastic cheapies , the owners of the home know the price of the good things and have excellent taste.
JAPAN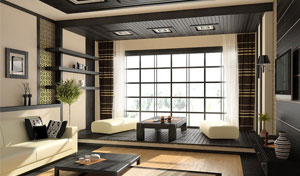 Style for moderate philosophers, adjusted for centuries. Laconic and taciturn as garden garden stones fifteen-ji temple Ryoanji. You can meditate, drink tea, relax and feel the center of a small universe. No need for words, the bustle and chaos ... hush ... do you hear? Faint rustling. Little stupid butterfly lightly touched the wing and flew off paper lantern at night. Moment - and again calm silence. The world lives, the world is beautiful and harmonious, it is - a real, pure and sincere, and you - it
AMPIR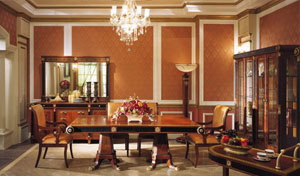 Exclusively for those who feel regal and special fans of true luxury . With this style, you can not "you" and familiarly . All items say about the host as a man who knows her worth and having power. This is the focus of beauty and elegance, strength and power . In a chair with armrests carved gilded well thought about the fate of the world and the universe , preferably alone and far away from everyday life . Excessiveness details deceptive , there is nothing superfluous or chaotic . Gold, bronze , silk , marble , precious woods , Greek and Egyptian motifs - the distinctive features of this noble and great style
ART DECO

The Art Deco style was developed following World War I, to offer people a new style for a new era. The excitement and optimism of post-war Europe and America formed the basis for this glamorous and elegant style of design. Art Deco furniture is streamlined in design. It was modern and sleek for the time while still remaining comfortable. Many designs of furniture used industrial materials such as bent chrome base that gives the piece a rocking effect. Wood pieces are highly lacquered in black, with woods used including exotic Brazilian rosewood, ebony, birds-eye maple, and light maple veneers. Upholstery is typically of velour, making the rigid structural form more comfortable.
Because Art Deco interiors were relatively minimalist for the time, colors are used sparingly. Most color schemes include black, combined with another color such as green, red or white while accent colors are usually chrome and/or gold. Pale blue or dove grey was also commonly used to provide a softening effect against the harsh black.
Art Deco lighting is extensive including ceiling lights, floor lamps, table lamps and wall lamps. Floor lamps include tall torchers in wrought iron or chrome with hand blown glass shades. Some are also of black wrought iron. Table lamps of bright nickel with white, clear, frosted, or colorful glass shades are common. Wall lamps can be bronze, aluminum, steel, or silver plated base metal with opaque white or colorful glass shades. All this lighting is warm, usually orange or yellow in color.
Surfaces in the Art Deco style are generally sleek and clean, lacking any texture in order to contrast the more decorative and ornate objects and furniture within the space. Mirrors made of nickel, chrome, or silver are decorated with motifs of deer, peacocks, roses, and geometric shapes. Bronze sculptures are sleek covered with colored or pearl beads. Desk sets of pen and pencil on a base are streamlined in design. Door handles and candlesticks molded of nickel, chrome, or silver have woodsy or chevron shapes. Frosted glass or black and white marble are used for vases. Inlay is common and adds color and design. Cameo glass vases show under layers of color exposed by etching away top layers of white or clear glass. All these decorative and slightly over the top objects were a show of renewed wealth and prosperity after the harsh rationing endured during the war.
To Recap, the main characteristics of the art deco interior design style are...
Glamorous and elegant style.
Industrial metals and lacquered wood.
Black as a main or background color.
Numerous light sources used.
Bold, colorful patterns.
Intentionally, overly decorative.
BAROCCO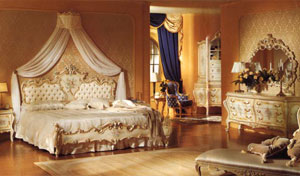 One word - luxury. The most that neither is true , in all its glory - from the golden silk brush canopy over the bed to vintage handmade tapestries . Massive chairs with burgundy velvet seats , moldings , ceiling murals and gold. A lot of gold . There is always the time of Louis XIV , known as " Sun King ", here I want to lift the chin and straighten your shoulders , casually giving orders invisible servants. One of the styles that requires considerable space to accommodate the large mirrors in carved frames , tall cabinets and a variety of ornaments .
LOFT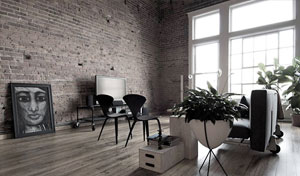 If you - an artist , a photographer or a creative and freedom-loving nature , this interior style fits perfectly . Maximum light , maximum space, no partitions and frills . Functionally , simply and tastefully . " Loft " English translates as " loft ", so essential attributes become rough brick wall , wooden floor or pipe. Attic, but unusual , and very comfortable with huge windows and open metal racks for any useful things. Remember ? Nothing superfluous , only the freedom and naturalness !
MINIMALISM

Minimalist architecture became popular in the late 1980s in London and New York, where designers worked to achieve simplicity, using white elements, cold white or blue lighting, large spaces with minimum objects and furniture. The concept of minimalist design is to strip everything down to its essential quality and achieve simplicity. Minimalism simplifies living spaces to reveal the essential quality of buildings and conveys simplicity in attitudes toward life. It is inspired from the Japanese traditional design and the concept of Zen philosophy.
The idea is not completely without ornamentation, but everything is as reduced down to a stage where you cannot remove anything further to improve the design, or without disapproving it. The basic geometric forms, elements without decoration, simple materials and the repetitions of structures can represent a sense of order and essential quality. The movement of natural light in minimalist buildings reveals simple and clean spaces. In order to successfully implement minimalist style storage is a key in order to allow the space to remain minimal while still retaining the essential objects you use within that space. Minimalist kitchens are an excellent example of this, where clever use of space and hidden storage is regularly used.
To Recap, the main characteristics of the minimalist interior design style are...
Cool colors and white or blue lighting.
Large open spaces with minimum furniture, essentials only.
Reduced to ideal quantity.
Storage is a key to maintaining minimalism.
Natural light used as a feature.
POP-ART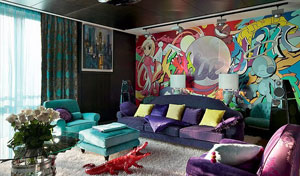 Boom! Pepsi bottle in small water droplets explode sweet sparkling fountain, heard lively conversation , laughter, someone draws on the wall Batman flying with Mickey Mouse . On the walls of repetitive portrait of Marilyn Monroe in different shades , comics and vinyl records. World a man who did things pop into their lives , transformed and decorate them in all colors of the rainbow . Hey , wake up , people, it's all so funny ! Who says you cannot upholster a sofa British flag ? We all can ! We - rebels - aesthetes , artists and creators of their own worlds and let them be bright and colorful !
PROVENCE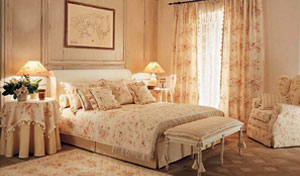 Summer. Wake up early in the morning from the hubbub of the bird outside the window and the bright sun . And on the table , on the snow-white linen napkin is already waiting for you hotcakes , carefully baked grandmother , and of course , cold milk in a large ceramic mug . You chew on the go, squinting with pleasure, and bare feet stomp the heated plank floor to the street. Childhood and carefree feeling , a feeling of warmth and home - that's what the style of Provence. Like a wonderful light sleep in pastel tones and lavender . There is no place for dark shades , coarseness and sharpness . Extremely soft , soft and lulling heat.
TECHNO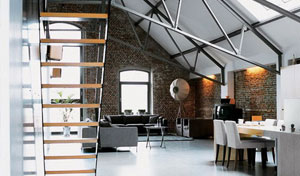 Heavy doors , metal , stone walls, pipes and spiral staircases . It seems that accidentally ended up in a factory environment or a professional studio photographer. Hmm, there are chairs and tables cute ... Not very comfortable, but peculiar. It turns out that you can live in and enjoy the rough fixtures and cabinets containers. For those who have nerves of steel and a special view of the world . Metal everywhere , all kinds of intricate designs and cool light . Reinforced monster outside and unusually attractive and comfortable inside.