3D Stretch Ceiling Design in Dubai
What are 3D Stretch Ceiling?
3D Stretch Ceiling is a special material with a smooth or embossed texture spanned by mounted on the perimeter of the room frame. The result is a perfectly smooth straight surface, which can be integrated point or any other fixtures.
The material for the manufacture of stretch ceiling is sturdy PVC film of various colors and textures, on which can be applied printing.
Enhanced recent specifications of 3D Ceilings made them very trendy and the most popular.
Appeared about 20 years ago, such ceilings quickly gained popularity thanks to its attractive appearance, durability and easy installation.
Fixed only 4 cm from the original ceiling, they do not reduce the height of the room and allow you to quickly and efficiently create a smooth, including multi-level surface.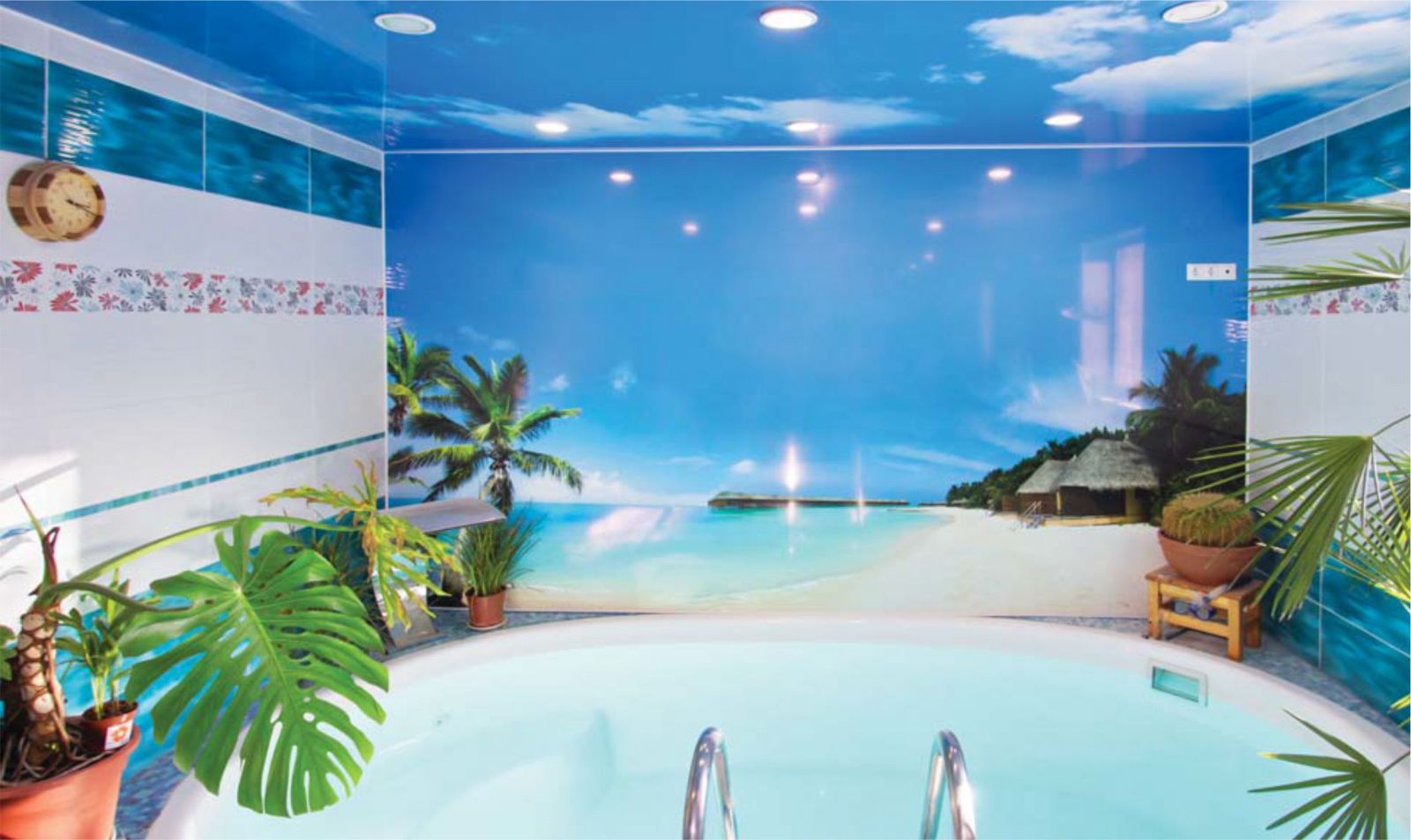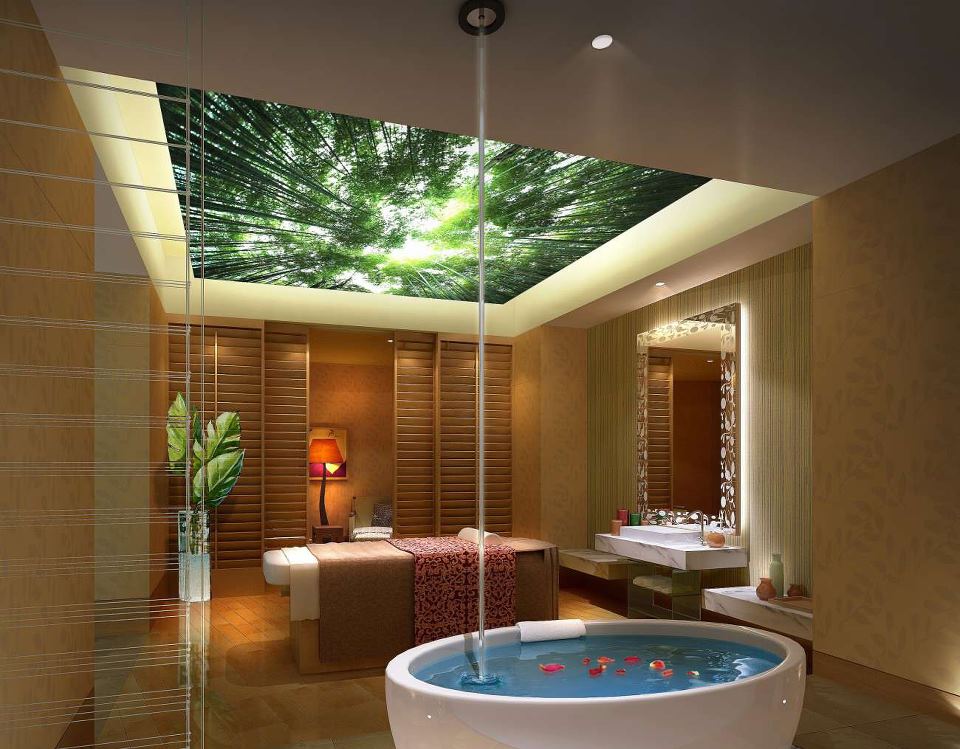 Technology of printing on 3D Ceilings
Modern technology allows large-format print images even on the surface of a Stretch Ceiling. In "Imperial Interiors" company photo applied using UV printing technology - special inks under the influence of ultraviolet radiation solidify and form a solid film on the canvas photo image. UV inks are characterized by high moisture resistance; do not fade in the sun. Living room - not the only place where you can use the 3D Ceilings, the same technology can be printed cloth banners for advertising light box, or in the store, on the street.
​
For the application of artistic images on 3D Ceilings using special printers for large format printing. Print used soft eco solvent. This eco-friendly paint: it is non-toxic. Images printed with eco solvent, are resistant to moisture and preserve the brightness of colors for many years. Eco solvent - only the paint in a series of solvent, which is permitted for use indoors.
3D Ceilings creates an exclusive interior. Thousands of people have already taken advantage of this opportunity to emphasize the individuality of them homes, offices, shops... Please have a look our gallery on the result of their imagination and realize their dreams! The pattern can be printed on any part of the ceiling depending on the design.
The "Imperial Interiors" company is actively engaged in the development direction - 3D Ceilings - since 2000. Today, this kind of work is very popular because it allows you to create truly unique designs for any customer requirements.
Art design of 3D Ceilings helps to emphasize the idea of ​​interior and organically fit into any room style. It allows you to print on the stretch ceilings material pictures, decor, designs, landscapes, any drawings and images.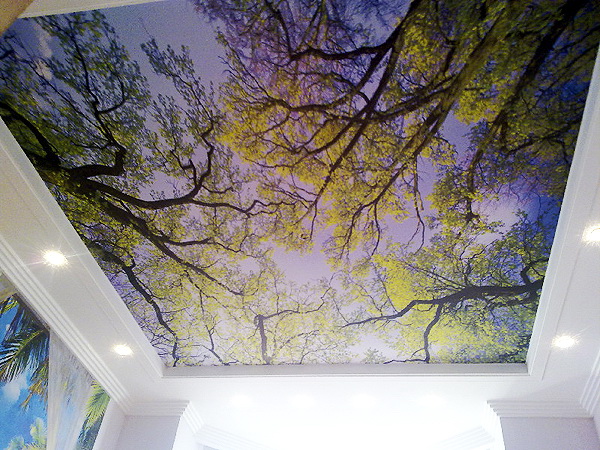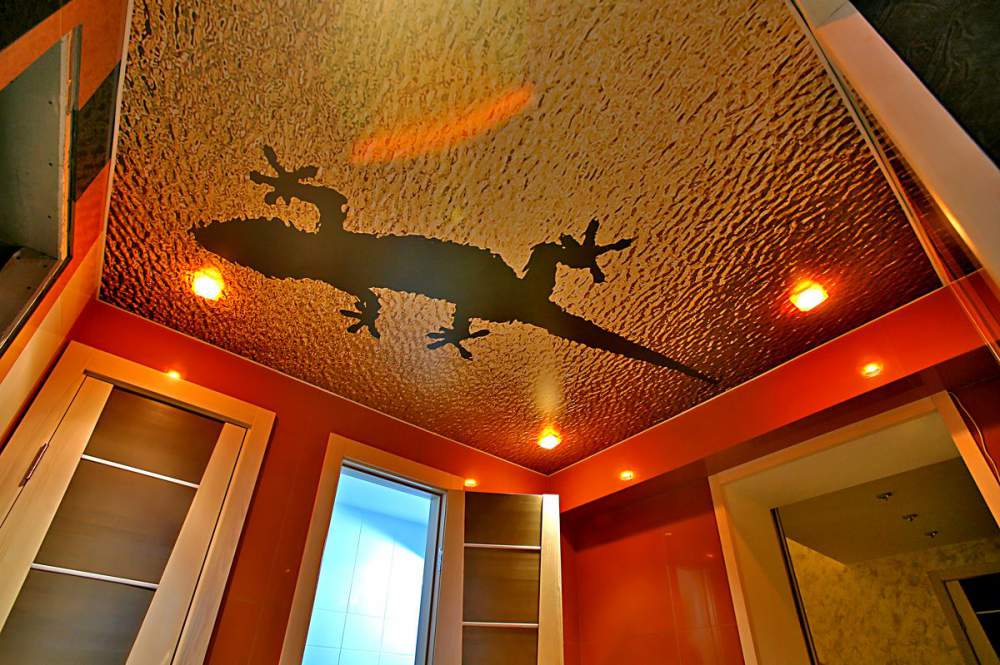 Art prints on stretch ceilings - is:
Aesthetic ceiling coverage;

Exclusive design;

High quality, functionality and reliability finish.

In order to facilitate our customers to select an image that will suit their style of interior design, we offer a rich photo library Shutterstock - shutterstock.com. This website - a largest image bank, which is updated daily with a new high-quality pictures and images. Everyone can choose and download any images you liked.

Ordering 3D Ceilings from "Imperial Interiors" company is very simple. To do this, select the appropriate image or photo, specify the desired size and send a request to our e-mail or call our company's managers.

If you selection of image causes difficulties, the designers of "Imperial Interiors" will custom-design according to your wishes. For us it is very important that the client was satisfied with the cooperation with our company.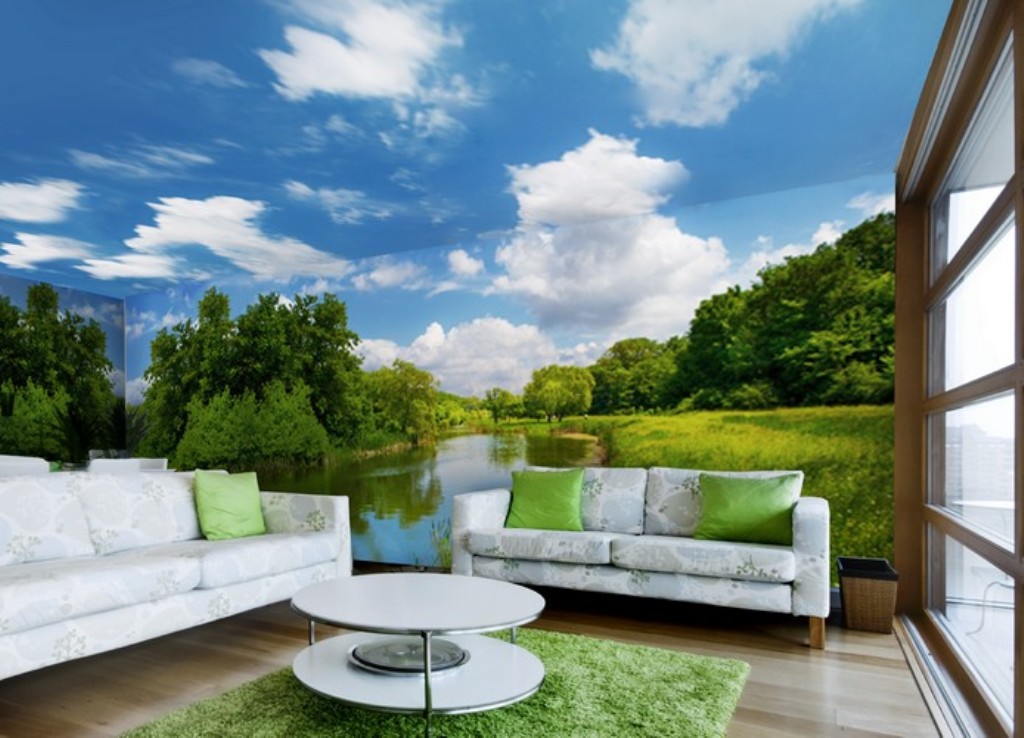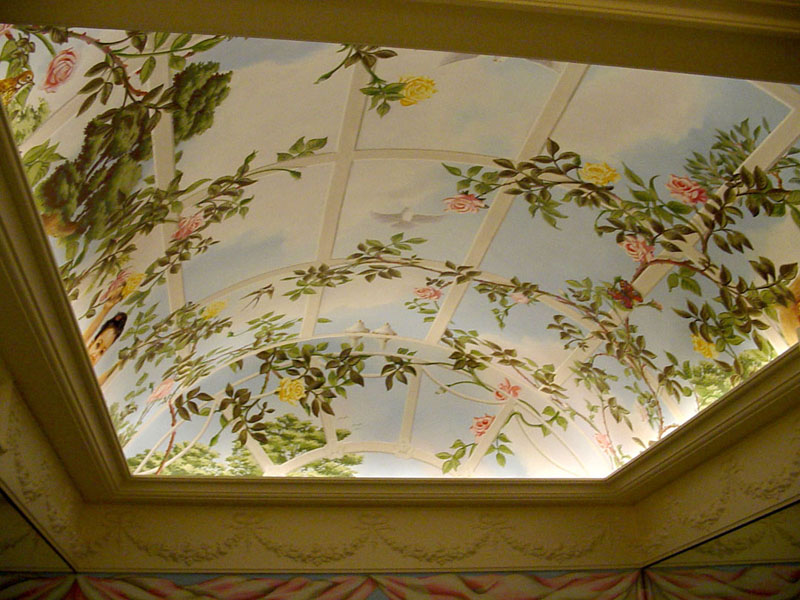 Application of quality images or pictures
First of all, it is important to choose a picture of high resolution. Application quality images depend on the properties of the source file. Print resolution is usually up to 1440 dpi (dots per inch), so the source image file should act in a high vacuum. It is also important to note that even at precisely calibrated monitor the color will look absolutely not the same as on the real ceiling, so before a big photo print better be sure to do a proof - the proof print an image on a small fragment of the canvas.
Image quality also affects compliance with the selected type of ceiling material - PVC, texture and printing method. For example, if the task is to turn the ceiling frescoes in the better use of opaque fabric and solvent printing. The glossy texture of PVC films will flare and distort the picture. For the floral pattern in the bedroom suit with satin texture UV printing process. And for bright pictures with clear lines it is advisable to use a glossy PVC sheet and ultraviolet method of printing.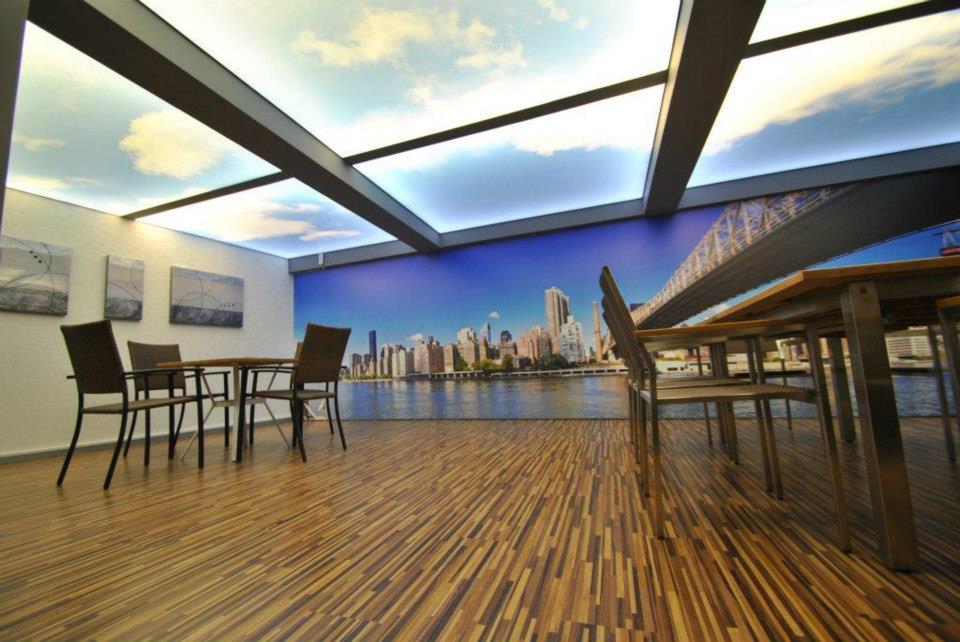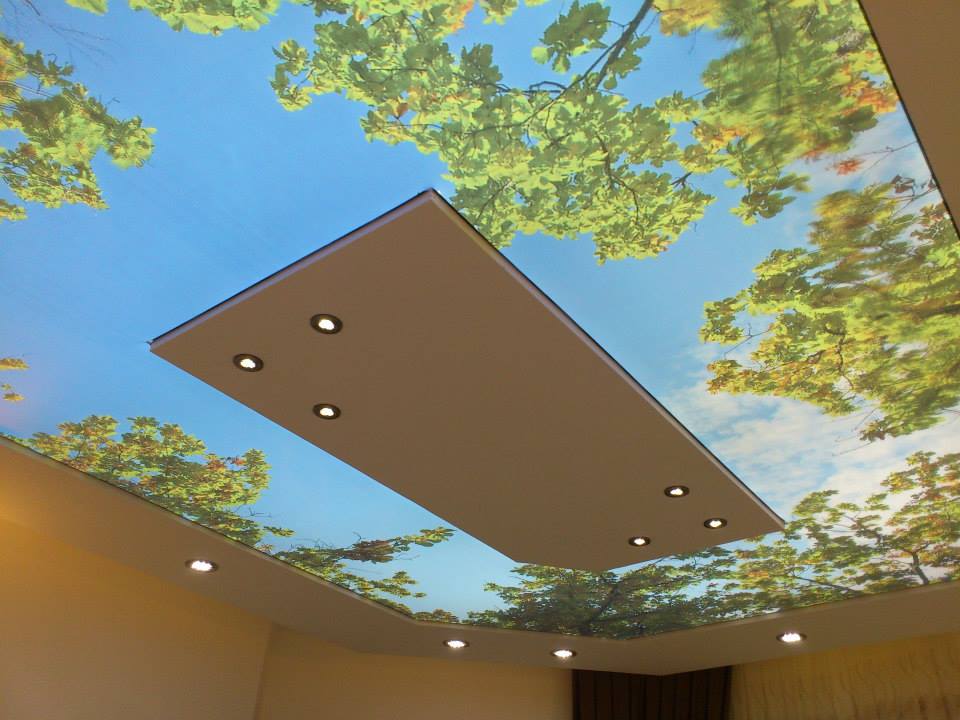 Image Requirements Print
Files are accepted for printing of the programs - Quark Xpress. Adobe Illustrator, Adobe Photoshop, without limitation; Corel Draw, Adobe Indesign CS3 designer after checking with the attached listing. Image File Format TIF, TIFF, EPS, JPG, without limitation quality; PDF, PSD, PDD, CDR after translation into raster graphics
Stretch Ceiling waranty and installation work
Only confidence in the quality of its products and services enables the manufacturer to provide long-term guarantees.
"Imperial Interiors" for the production of 3D Ceilings using modern high-tech equipment and certified materials, which allows production of reliable and high quality product. The company constantly monitors the compliance of finished products to international standards of safety and quality.
We are confident that our 3D Ceilings will last very long, so we give a guarantee period of 10 years.
Team "Imperial Interiors" employs only highly qualified installers and designers. Each specialist has extensive experience and skills in the development and installation of 3D Ceilings of any design complexity and shapes. Our installation team work quickly, smoothly and accurately. Therefore guarantee installation work is 1 year.
The "Imperial Interiors" - a guarantee of quality performance of any order in accordance with the requirements of the client and in the shortest time.
We value our customers and our reputation.
"Imperial Interiors" You can trust!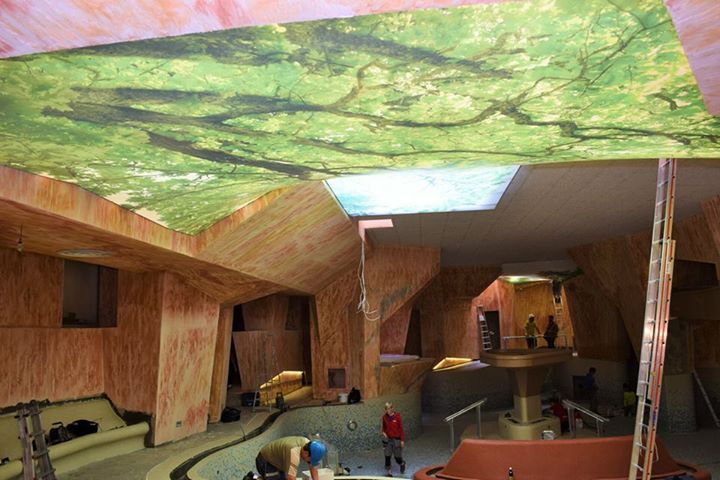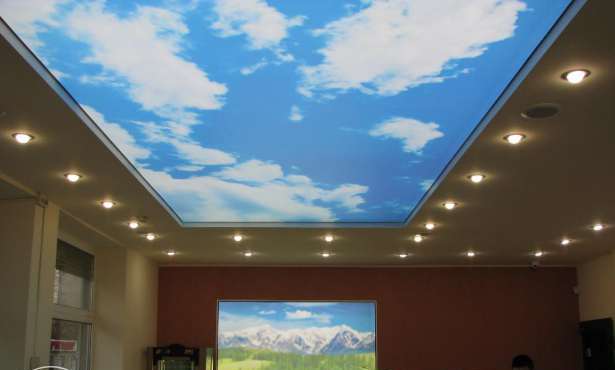 Scope of applications :
Quality 3D Ceilings can be used without restrictions in all areas:
Offices, commercial and industrial halls;
In bedrooms, living rooms, bathrooms, hallways;
In swimming pools, sports complexes;
In hotels, restaurants, lobbies, conference rooms.
At the same time there is always a possibility to choose ideal option. For smaller room's relevant glossy surface for large rooms - matte and luxurious designs for bedrooms.
Application of photo printing - a modern trend in the decoration of 3D Ceilings. This method of interior design allows for a truly unique design solutions in any room.
In a Leaving areas. Children's room, living room, bedroom, kitchen, office. 3D Ceilings profitable emphasize functional purpose of the room; will add harmony to the overall design of the interior.
In a Swimming pools. The striking pattern on the marine theme will immerse you into the realm of Neptune. Or maybe you prefer a bottomless sky with clouds over his head?
In a Hotels, restaurants and cafes. Thematic art design ceilings emphasize the concept of the institution and it will add individuality.
In a Boutiques, salons. 3D Ceilings will not only make the place unique and recognizable, but also attract its spectacular views of more buyers.
In a Car showrooms and corporate offices. Here, as an object of printing, you can use not only a beautiful theme pattern and logo and represented brands.
In a Kindergarden, hospitals. Materials designed specifically for children and medical institutions, and have a special anti-bacterial protection.
3D Ceilings visually expands the space, giving room majesty. It perfectly operated in wet areas such as swimming pools, bathrooms with toilets, showers and a kitchen.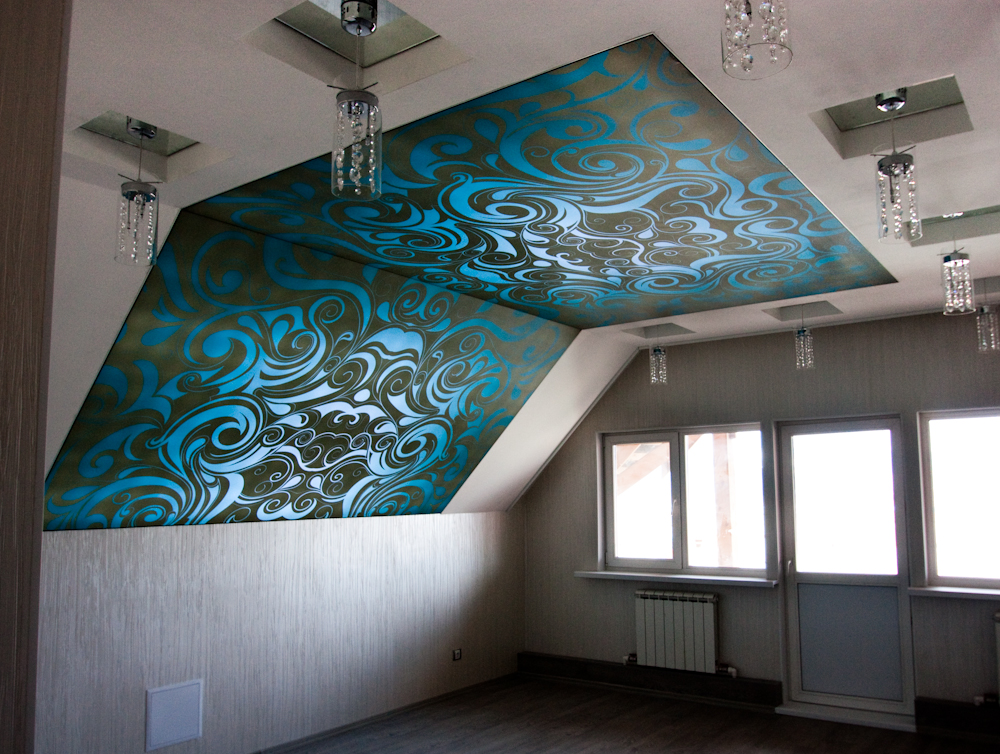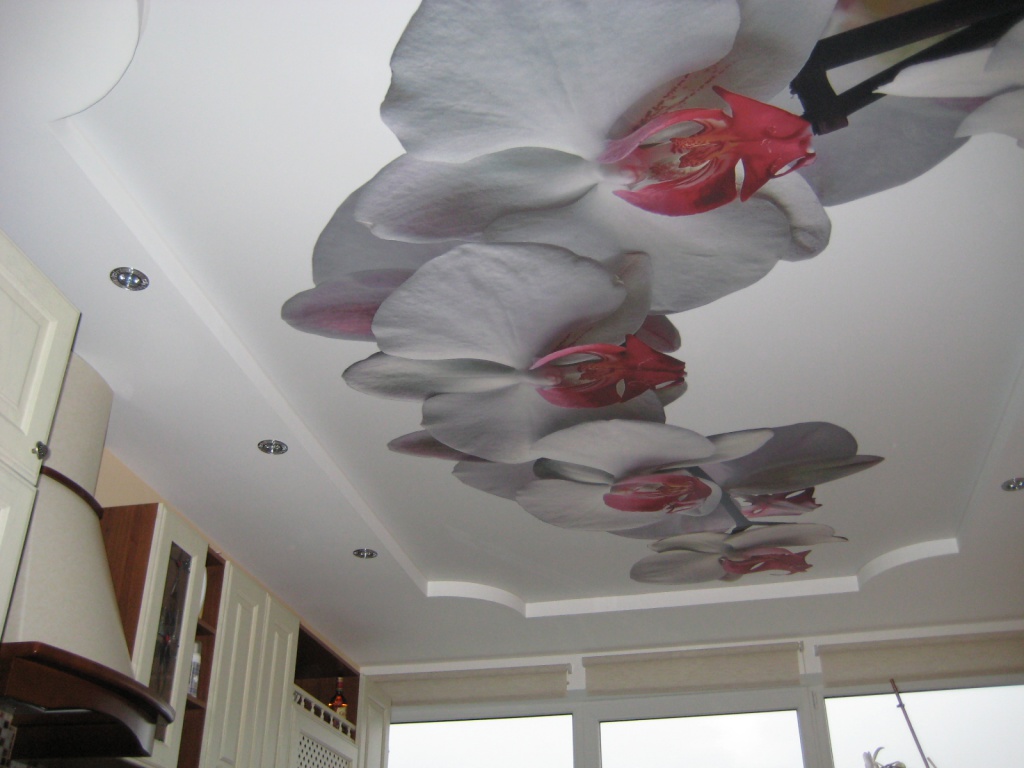 3D Strech Ceiling are water resistant
For rooms with high humidity, experts recommend PVC fabric: matt, satin, glossy, translucent. 3D Ceiling film is very thin, so instantly acquire the room temperature, so it does not collect the condensate.
3D Ceilings is not change color from the humid, fungi and bacteria in the artificial materials have nothing to eat. 3D Ceilings also waterproof and durable, so ceilings can be cleaned from the spray of water and wash in cases of contamination.
It's worth noting that on the mat and satin pictures are clear, but on glossy, which goes well with tiled walls, the image will be distorted, reflecting walls and plumbing.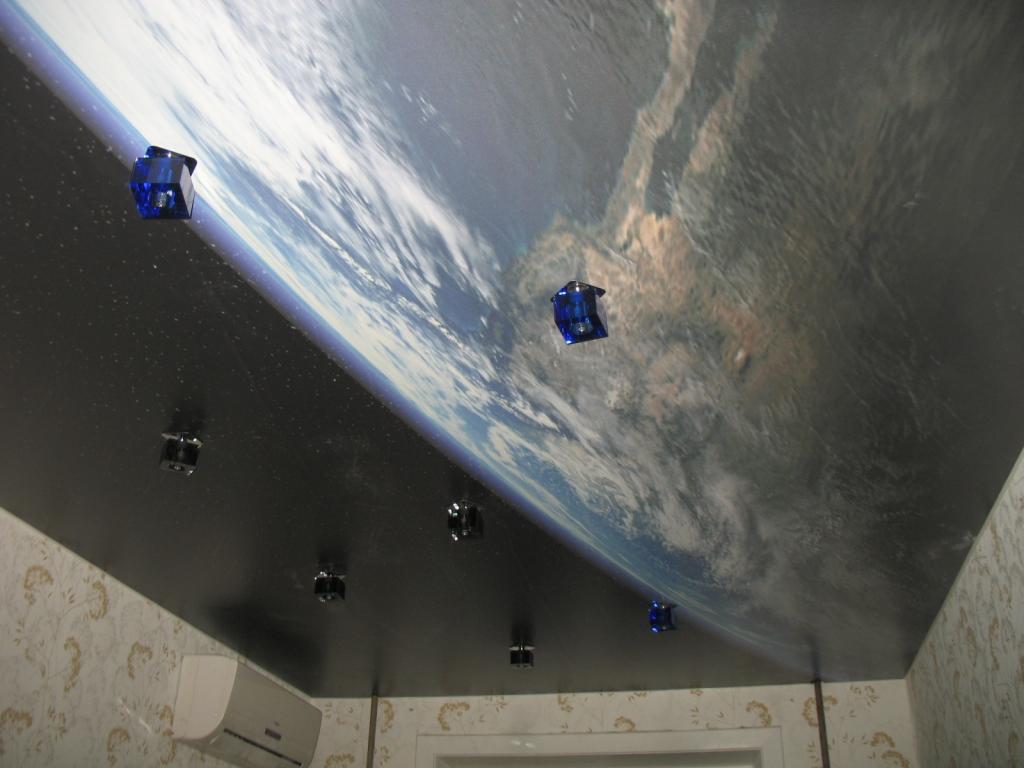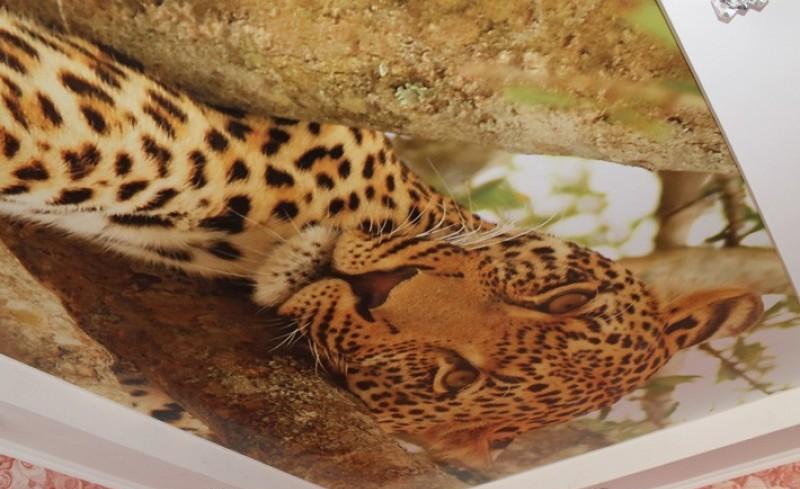 3D Stretch Ceilings in your home
3D Ceilings transforms the kitchen and dining rooms, living rooms and working rooms, bedrooms and home gyms. But the most sought-after it becomes in children's rooms. Kids love to equip your little world favorite toys and picture books from your favorite characters and movies.
3D Ceilings - it's a great opportunity to create a fairy tale. Over the child's head can be turned elves and fairies, fly planes and funny cartoon birds, including the bizarre and magical colors of trees hiding the dwarves or little animals.
Blue sky with clouds and sun playful lambs, also a popular image. Fluorescent dye in combination with eco-solvent give special effects in design. For example, in the afternoon on the ceiling on the background of the sky on the roof of the house walks ginger kitten. And at night silhouette cat flickers around the stars are burning in the windows of the building ignited light. It is worth noting that the children's best to use matte canvas printing. Toddler critical sharpness, while falling asleep relaxed atmosphere, not glare and shadows on the ceiling of the gloss.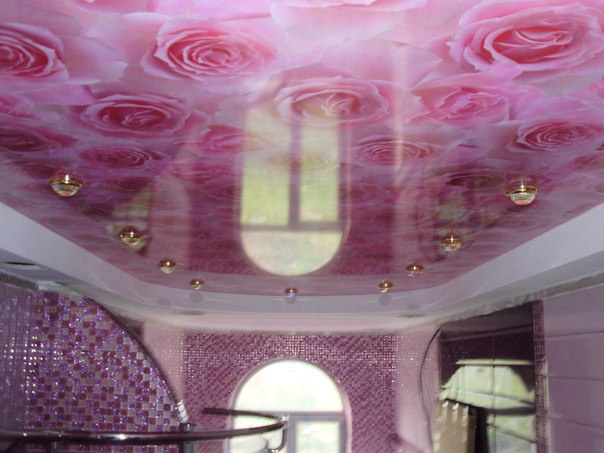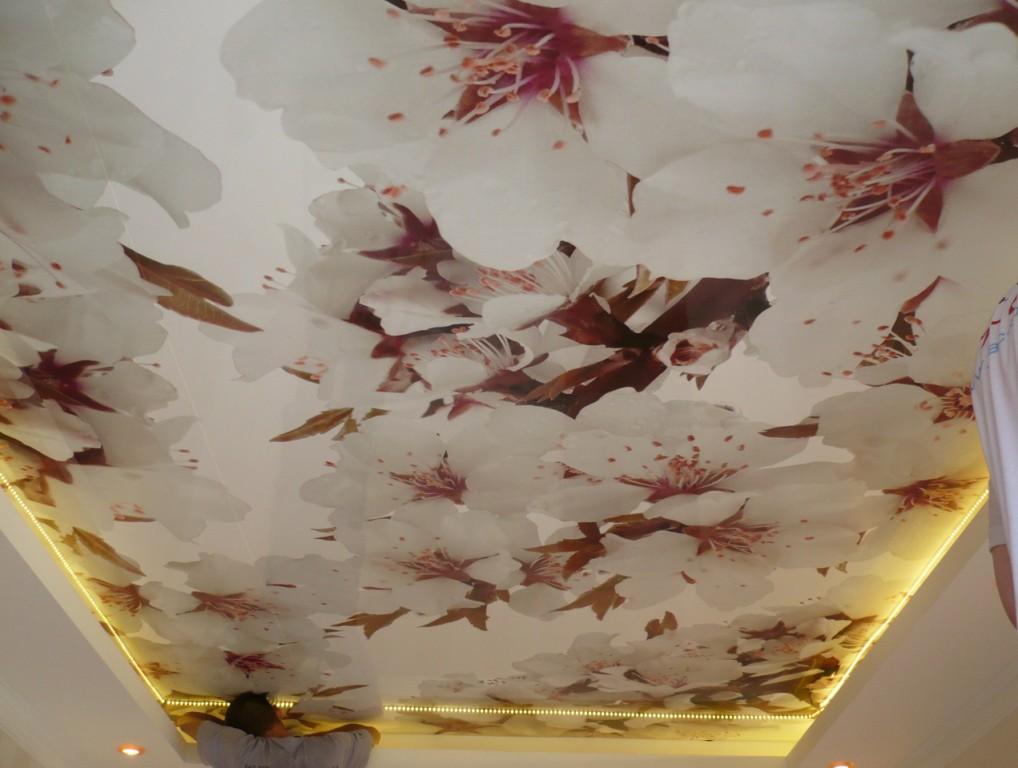 3D Ceilings in Commercial premises
Of course, artistic ceilings are relevant and in the interiors of restaurants, cinemas, night clubs, bars, hotels, bowling alleys, swimming pools and other shopping, entertainment and cultural venues.
With photo printing 3D Ceilings are very specific when used in business centers, offices, travel agencies or official institutions. The image makes it possible to emphasize the status of the institution, creating a style and a certain atmosphere.
If you would like to order the 3D Ceilings with special design in Dubai, experts of the «Imperial Interiors» company always at your service. We are in a short time will help you choose colors and images and set the 3D Ceilings.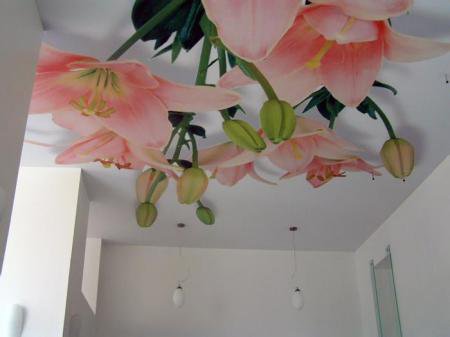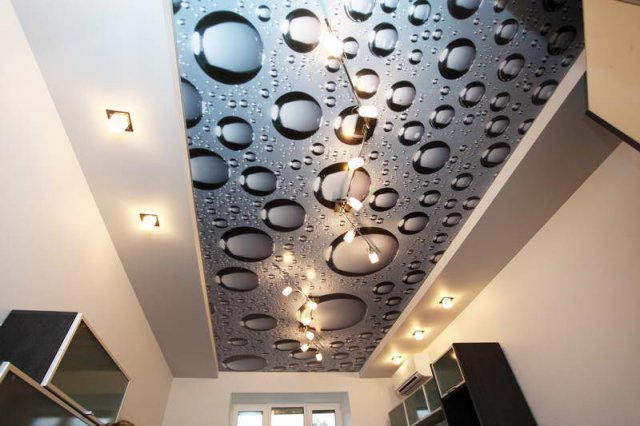 Advantages of 3D Ceilings to other types of ceiling decoration:
Longevity - a minimum warranty period - about 10 years, during which you can forget about cosmetic repairs;
Humidity. 3D Ceilings are not afraid water leakage - even if the sheet is deformed under the weight of water, enough to unscrew the bulb, drain the water. The ceiling is dry and takes the old "commodity" form;
Quickly summarizing communications. Use of 3D Ceilings can accelerate the process summarizing communications and wiring. Now, all the wires and pipes that previously had to hide in the floor slabs, you can just fix them, and correctly selected and installed quality fabric reliably hide communication with surface irregularities
Easy installation that does not require global preparations, washing paint, alignment ceiling, "dirty" decorating, etc. Just an hour or two of work, the apartment will be a new, smooth and beautiful ceiling;
Versatility. A wide selection of colors and textures, allow such ceilings perfectly complement even the most extravagant interior;
Hygiene. 3D Stretch ceilings are made of antistatic material on which virtually no household dust settles. If necessary, the ceilings can be cleaned with a soft cloth using detergents. Given all the undeniable advantages, it is not surprising that the market for building materials, the production of 3D Ceilings with each year becomes more and more popular, and up to saturation of demand is still far away. Therefore, the production of 3D Ceilings - very promising and interesting idea for small and medium-sized businesses.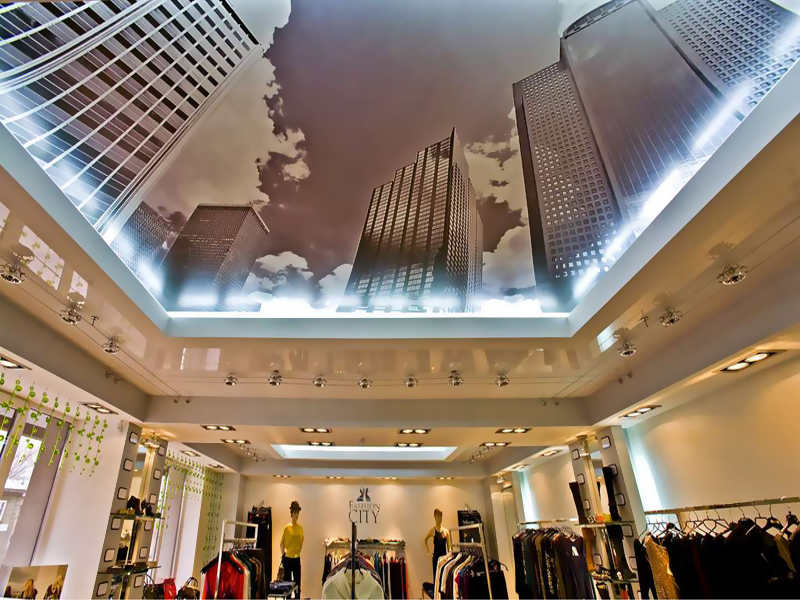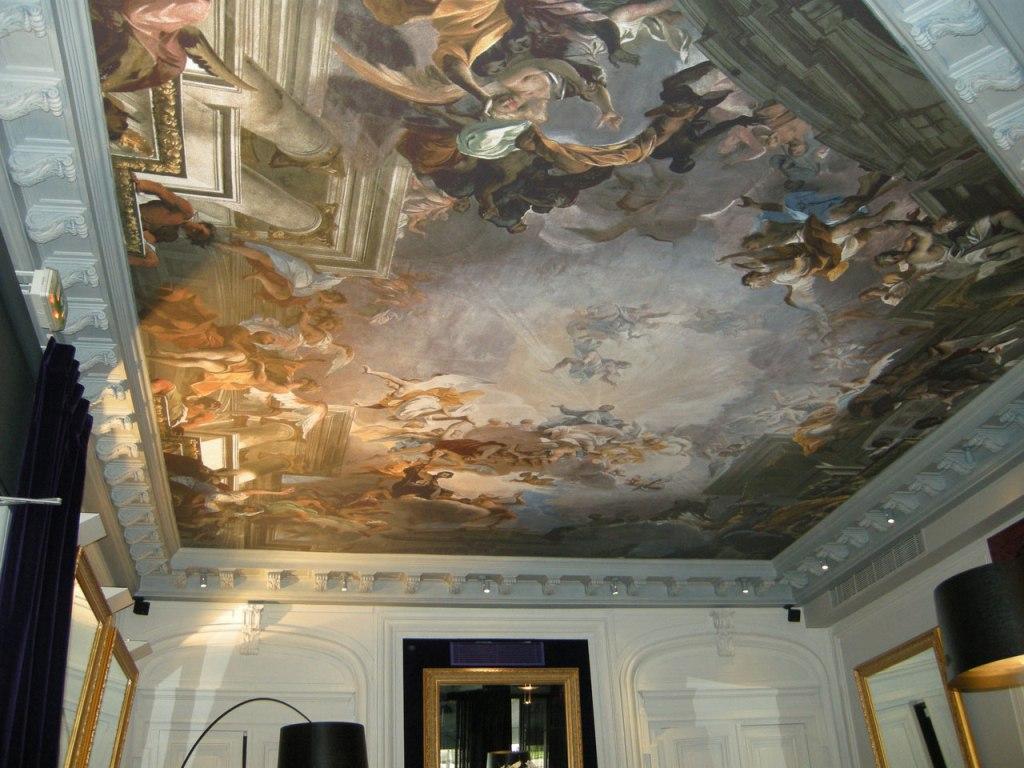 3D Stretch Ceiling Advantages are evident:
Ceiling does not lose visual appeal for a long time, does not yellow and does not tarnish when exposed to sunlight;
Fabric does not sag, with quality installation; it is an ideal flat for many years;
High-quality material is not afraid of dampness. Owners of suspended ceilings are not familiar with the problem of condensation. That is why the PVC fabric - the best solution for the ceiling in the pool or the bathroom;
Material does not attract dust, and care for them is very simple. It is enough sometimes to wipe it with a soft, damp cloth;
Branded fabric made from environmentally friendly materials on modern equipment. Such a coating is recommended for use in any environment, including, in nurseries;
Warranty on material - 10 years with proper care will last a ceiling of 25 years or more;
Sturdy canvas holds up to 100 liters of water - and, therefore, cannot be afraid of leaks.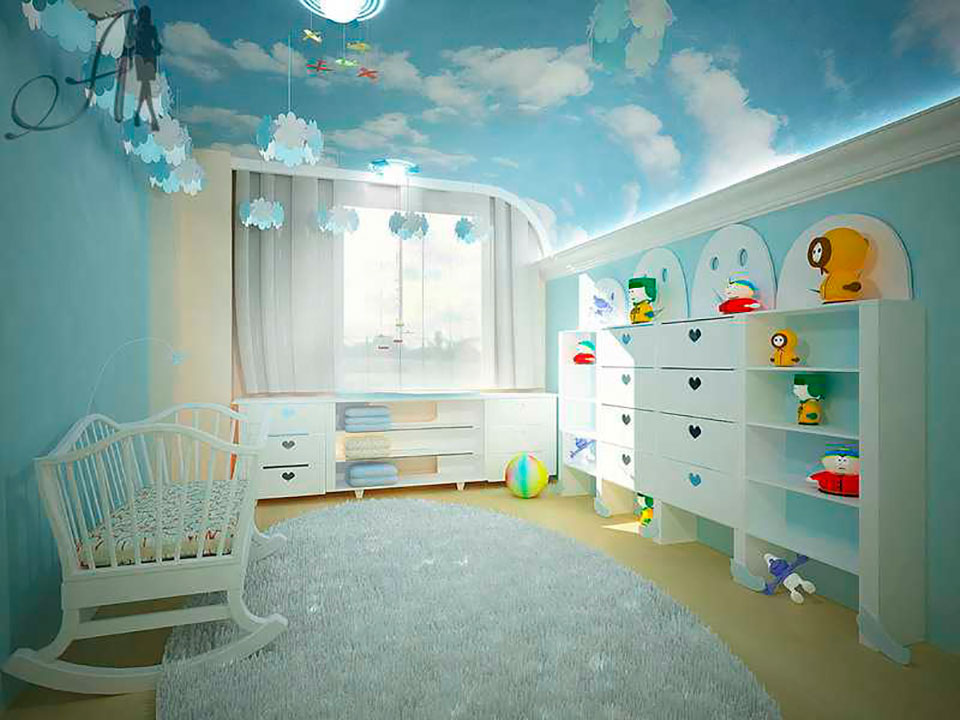 Advantages from cooperation with "Imperial Interiors" company
A product, which sells the "Imperial Interiors" company now, belongs to the category of high-quality finishing materials. Our products effectively solve their tasks by arrangement and aesthetic design of houses, apartments, offices and institutions.
DESIGN: the richness of colors and textures allow implementing even the most fantastic design projects for any type of premises.
SECURITY: clean and fireproof products, which is confirmed by the appropriate certificates that meet international standards of quality and safety standards.
PRACTICAL: our products are durable, wear-resistant, and resistant to environmental influences, durability, subject to secondary treatment.
FEATURES: Use of our products provides additional thermal insulation materials have acoustic properties, allow to integrate lighting, heating, ventilation, keep the original shape and color for years of operation.
INSTALLATION: quickly, easily and accurately mounted (possible to remove and reinstall).
ECONOMY: reliable quality at the most reasonable prices, the company constantly organizes attractive to their customers promotions and discounts.
WARRANTY: 10 years on the ceilings, 1 year - on installation work.
INNOVATION: we are constantly working on improvement, modernization and development of our production, expanding the scope of our products, create new projects and open up new possibilities in the field of design and finishes.
INTEGRATED SERVICES: consulting, design, project development, installation, service - the "Imperial Interiors" company - is the execution of "turnkey" orders at the highest level and as soon as possible.
Quality, safety and service - three key factors of our success!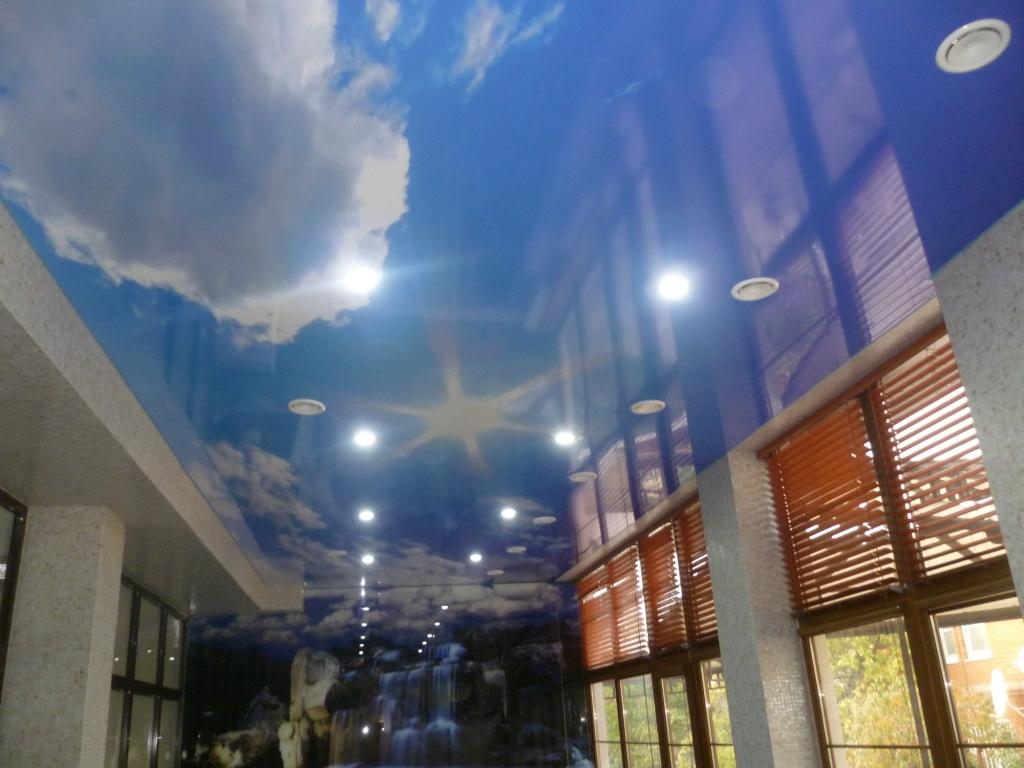 Safety of "Imperial Interiors" Stretch Ceiling products
Quality and Safety - the key characteristics of "Imperial Interiors" products.
The company is monitoring the quality of materials at all stages of production - from the purchase of components and pre-installation of the finished product. Thanks to this factory production ceilings show high rates of exploitation.
Product safety is confirmed by the corresponding certificates.
Ceilings clean,
Comply with international standards and norms,
Approved for residential installation.
In the production of the factory uses only certified high quality accessories. Installation works are carried out in accordance with the regulations and in compliance with safety regulations, and to the work of professionals allowed to demonstrate proficiency.
Compliance with quality standards allows the "Imperial Interiors" company confidence to compete and maintain its leadership position in the field of 3D ceilings for more than 10 years.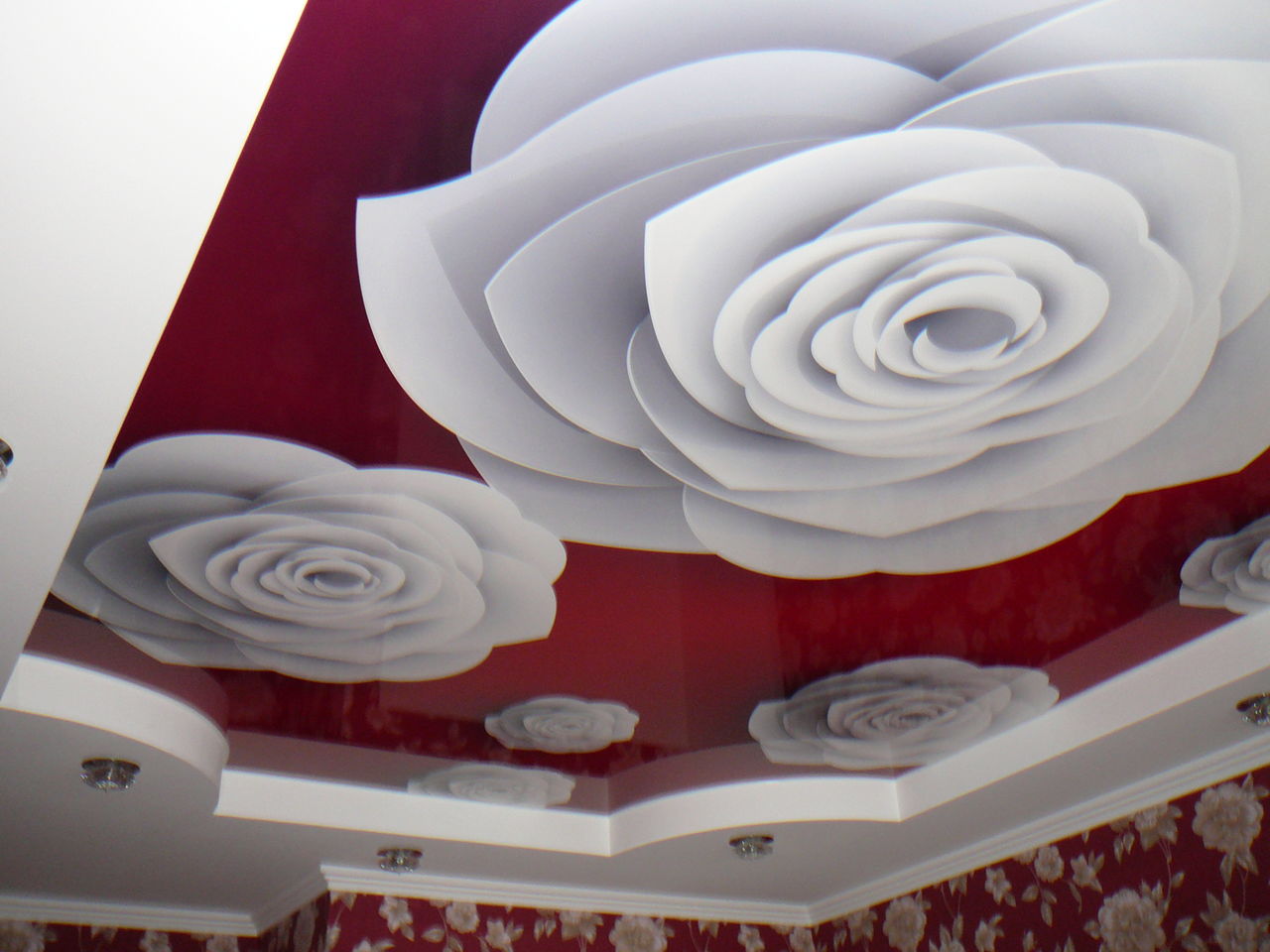 3D Stretch Ceiling Quality Policy
"Imperial Interiors" company seeks to strengthen the leading position of responsible manufacturer and makes every effort to achieve sustainable development by maximizing the satisfaction of our customers and improve the competitiveness of products and services.
Improving the quality - it is a strategic objective of the company.
To achieve this goal, the company assumes the following obligations:
Continuous improvement of production management, aimed at improving the quality of products;
Application and improvement of production technologies aimed at improving the quality of products;
Companies providing competent personnel to perform its tasks in a professional manner;
Creation of conditions for motivating our employees to achieve strategic objectives.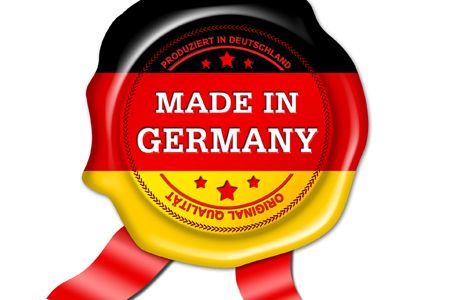 3D Stretch Ceiling installation benefits
Ceiling materials is divided into two types, glossy and matt.
Proper installation is obtained perfectly smooth surface;
The installation should also be attributed to the merits. Almost one day is possible to set this structure;
Available always there are many colors and shades. There is the possibility of applying to the surface different images: photographs, drawings, paintings, etc.
In addition to the aesthetic advantages of this material have many practical advantages. Even the installation can be done fairly clean;
This material will not absorb fat, smell and soot, is not subject to mold growth. They do not require a lot of effort in the care; sometimes enough to wipe with a damp cloth and moisten it can be an ordinary cleaning agent, which is available from any housewife. The structure of the film antistatic and does not attract dust and dirt. Such a material is very hygienic;
According to the technical parameters of the film and performs noise isolation facilities;
This waterproof material and it is no condensation. Therefore, the film can be installed in areas with high humidity;
This type of ceiling perfectly hides defects of the surface of the base installation and makes the invisible irregularities overlap. Their well-installed in new buildings, as they do not accept the shrinkage at home;
It is possible to dismantle the structure and then install. Possible parts replacement.
Glossy has a coefficient of reflection of 90%, which is twice as visually raises the ceiling and expands the space by reflecting objects, at the same time creating a magical play of light from the lamps and chandeliers. On the glossy noticeable seems a bit.
Note! Dark colors have a greater reflectivity than the light.
Semi-gloss: items recorded unobtrusively as clearly.
Stretch ceilings are made of the same metallic fabrics and PVC is characterized by specific modulations with diffused mirror effect.
Presentable pearl stretch ceiling is always present only in the striped version. Elegant, refined it reflects light rays, modulations.
Satin ceiling like a mat, but his relief is smooth, which enhances the reflective properties of the film, giving a dazzling white.
Satin fabric (10 different colors) - the traditional version: without glare and reflections, giving perfectly smooth surface. These matte ceilings are suitable for the application of the additional drawings.
Tip! In very high rooms canvas PVC ceiling can be lowered and save on heating the room.
They provide a completely flat surface, and any defects stretch ceilings of this type were observed.
3D ceilings can ennoble bright high-quality photo printing.
LED strips and generators under this matte canvas create fancy effects pleasant diffused lighting.
Figure is applied to the special printer's solvent method and ultraviolet printing (with a resolution of almost 1440 dpi).
Rich design ideas embodied in the ceiling, which does not crack, does not crack, does not change color and structure, will long to please us. Tension ceilings and the difference between them and the characteristics - a major issue in the choice of material and design of the design.
Advantages of tension ceilings
Shape: flat, oval, spherical, arcade, and even broken, as well as possible with the surface of the multi-level stretch ceilings.
Sterility is ensured by water and conventional detergents, and the sterilizer may be chlorine or conventional steam.
Impermeability - also winning characteristics of suspended ceilings. They do not allow water and moisture in the room.
Antibacterial impregnation easy to remove harmful microbes, fungus and unpleasant odors.
Acoustic: the suspended ceiling will improve the acoustic parameters.
Thermal barrier: it is this surface perfectly keeps the temperature in the room.
Installation: ceiling mounted experts quickly and does not require rearrangement of furniture, but in the end it turns out perfect uniform coating area up to 40 square meters. m.
Stretch ceiling we can assemble and dismantle several times, but only when the harpoon mounted.
Safety: painting of the ceiling is fire resistant properties - does not support combustion.
Warranty - 10 years on a constant structure of the material, shape and color. Certificates: the ceilings are made of heavy-duty, environmentally friendly material that has fire and hygienic certificates.
3D Stretch Ceiling technical characteristics:
The width of the strip material is 1.3- 5 m;

Applies a film thickness of 1.3 mm;
Produced material texture: matt, glossy, satin and translucent ;
The material does not support combustion;
Weight: 180-320 g / m2;
The maximum tensile strength of up to - 17 MPa;
Tensile strength - 30 N (in both longitudinal and transverse direction);
Maximum withstands temperature from -25 ° C to + 50 ° C;
The absorption coefficient - 30% ("film webs with reflecting effect") to 95% ("tissue web");
Hardness 41 ± 2;
Average weighted sound absorption coefficient - 0.4;
Resists pressure to 1000 Pa;
Thermal conductivity of 0.16.
3D Stretch Ceiling wile operation :
Do not subject to change in the shrinkage at home;

Withstand changes in temperature and humidity inside the building;
Resistant to sunlight (do not burn, do not change the original shade);
Seismic stability (not fall apart);
Moisture resistant (can withstand up to 100 / m2 in case of flooding from the top) is not condensed moisture;
Electro statically neutral (does not attract dust);
Operating temperature: -25 to +50 ° C;
Does not require careful maintenance and allow for the possibility of wet cleaning;
Do not emit noxious fumes, does not absorb odors.
3D Stretch Ceiling Cost
We take into account such factors as:
Shape and size of your premises;
Type of materials;
Number of lighting fixtures, AC, access panels ;
Complexity of the ceiling structure, especially installation and much more.
Price starting from 70 USD per sq.m.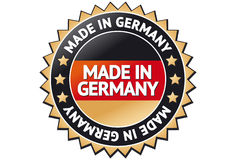 * At Imperial Interiors we are constantly updating our information , please check back here to ensure you have the most up to date information.