Translucent Ceiling Light Panels, Large lamps
Light ceilings - this is one of the most modern solutions for the lighting market. They bring an impressive play of light and a pleasant atmosphere to any room. Using the entire area of ​​the ceiling, the lighting elements are installed behind the translucent membrane, which creates a functional and impressive in its size light effect.
Large-size lamps are one of the most popular trends for today. They greatly enrich the capabilities of architects and designers to translate their ideas into reality. Large-size lamps combine high lighting characteristics and decorative qualities. This is especially true for public and commercial premises with large areas and high ceilings.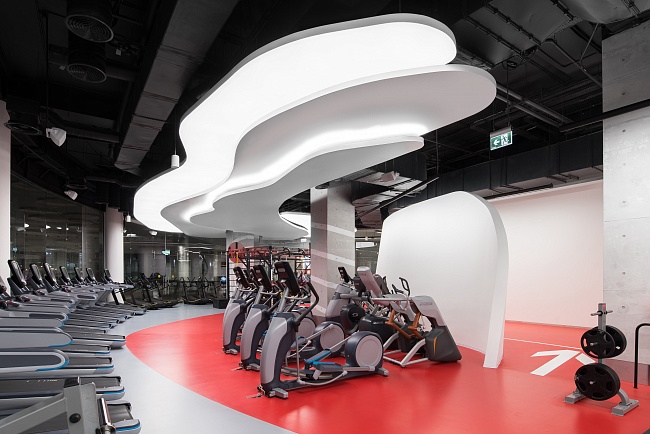 What are big LED lights?
Large LED lights - a novelty, which appeared on the market recently, so you can not find such lighting devices in all online stores. Our Company closely follows innovations in the field of interior design and offers its customers the latest technologies, including LED lamps of large sizes. They are made in our own manufactory with the use of the highest quality materials.
Such fixtures consist of the following elements:
LED-panel. The main element of large luminaires is a plastic panel with LEDs fixed to it. The color of the glow depends on which LEDs were installed: monochrome or RGB. The brightness of the glow depends on the number and power of the LEDs.

Aluminium case. Thanks to the use of high-quality aluminum, the LED luminaire is longevous and retains a beautiful appearance and integrity even under adverse operating conditions. Translucidic film. To hide the points from the LEDs and create evenly scattered light, a special light-transmitting PVC stretch film is used as a "plafond".

Suspension. Large LED lights are installed overhead or in a hanging fashion. The height of the suspension can be adjusted.

Power supply and connection cable
A wide choice of shapes (squares, rectangles, circles, honeycombs), colors of illumination and the possibility of applying photo-printing are factors that allow using large-size lamps in any interiors and different in functionality rooms. Dimensions of lamps vary from 750 to 1900 mm.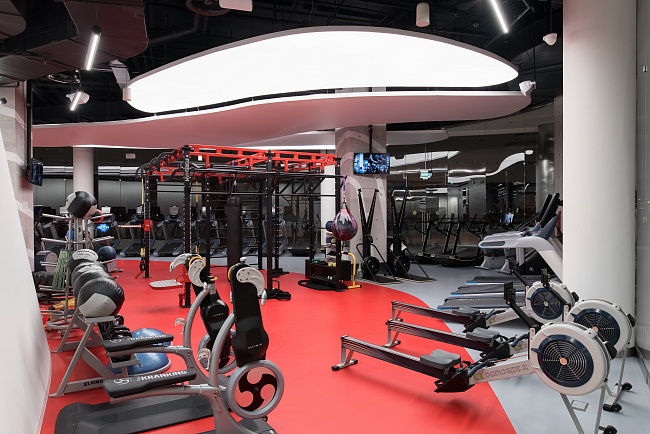 Where can I use large LED lights?
The large LED lamps, which our company offers today, are perfectly suitable for installation in such facilities:
Commercial premises. Original large-sized lamps with LED light sources can be used for lighting restaurants, swimming pools, nightclubs, shopping and exhibition halls.

Various educational and medical institutions. Since the fixtures produce sufficiently bright and evenly scattered light without the effect of flickering, they do not lead to visual fatigue. Therefore, they can be safely used in schools, kindergartens, universities and even in clinics, hospitals and various recreational facilities.

Entertaining and cultural centers. Luminaires of large dimensions not only provide high-quality lighting, but also allow creating an original element of the interior that will look great in theaters, museum halls, children's playrooms, etc.

Offices. To organize large-scale office space in high-quality lighting, you can choose large-size LED lights.

Premises of production type. Such lighting devices are suitable for installation in factories, production halls and other objects with a large area and high ceilings.

Living spaces. Large LED lights are the best solution for large rooms. They are perfect for loft rooms, decoration of rooms in cottages and country houses, as well as for large-sized rooms of urban apartments.
​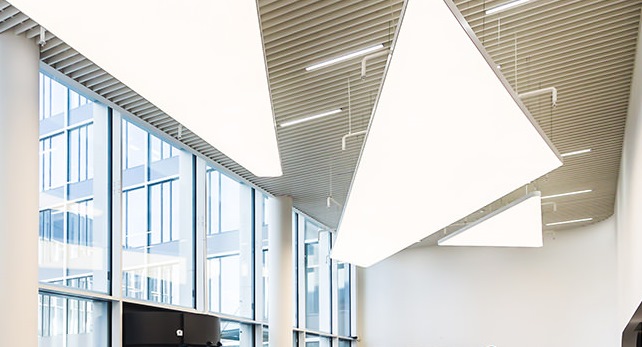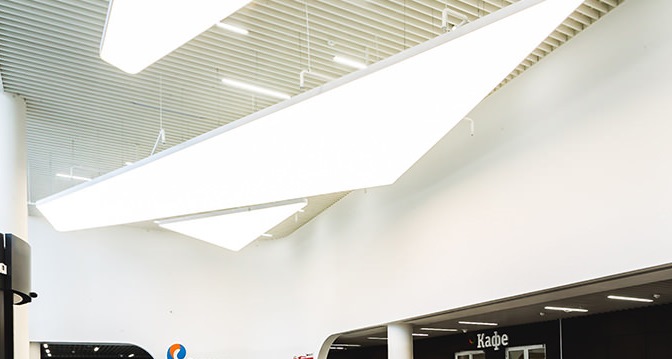 Play with light color
The lamp shines can be warm white light or daylight white light.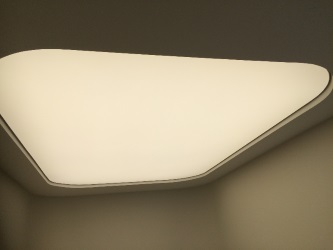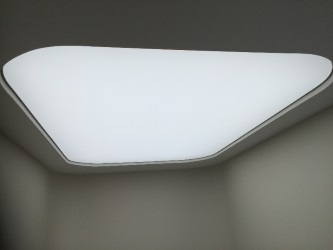 Advantages of large-size LED lighting
Today, many customers and professional designers choose large LED lights for interiors. This is due to the following reasons: Even the most powerful LEDs are characterized by economical energy consumption, which reduces utility costs.

By connecting the luminaire to a special controller, you can change the color, brightness and mode of operation of the backlight, which will create the desired atmosphere in the room.

Aluminum casing and the absence of glass elements minimize the likelihood of damage to the luminaire mechanically, and also ensures its safety.

LEDs do not heat up when working, so large lamps can be installed even in stretch ceilings.

A wide selection of models and design of lamps, which allows them to use for various interesting projects and use in different in style interiors.

LEDs are long life, so you will not have to replace them soon.

The possibility of mounting at any height or in an overlay.

Organization in the room of quality basic or additional lighting.
​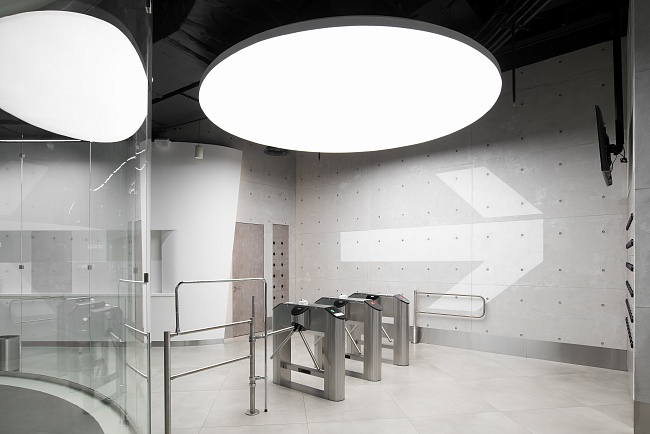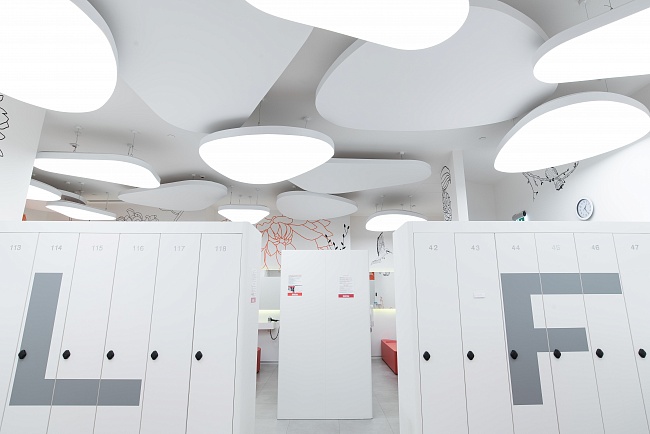 ADVANTAGES OF USE
The lighting of areas without the usual fixtures with the use of tension ceilings has already become a reality. Suspended ceiling systems significantly expand the capabilities of the architect and interior designer when creating harmonious lighting.
What gives the use of light ceilings:
the creation of original forms that embody the design of architects and designers;

these lamps have high aesthetic qualities;

the possibility of lighting large rooms with high ceilings;

large-scale fixtures help to hide the shortcomings of the interior and focus on important elements of the interior;

Our technologies have made it possible to combine large sizes and energy efficiency

stunning appearance;

smooth, pleasant lighting of the whole room;

the possibility of manufacturing on their basis of any complex forms;

give the room an individual design;

the ability to change the color of the glow;

provides effective noise insulation;

saves energy;

provides fire safety.
​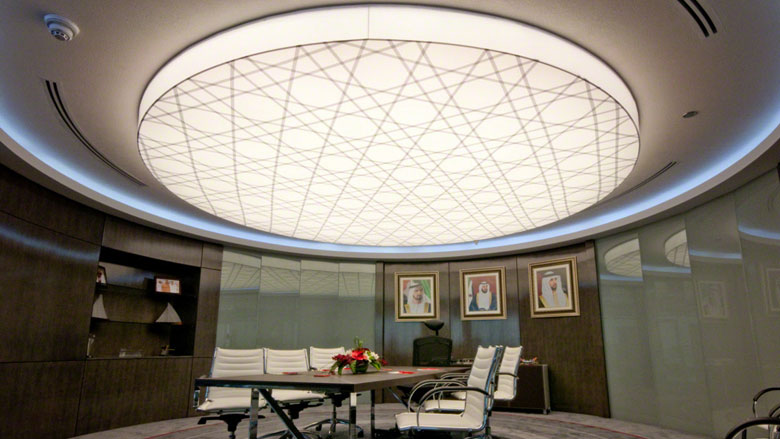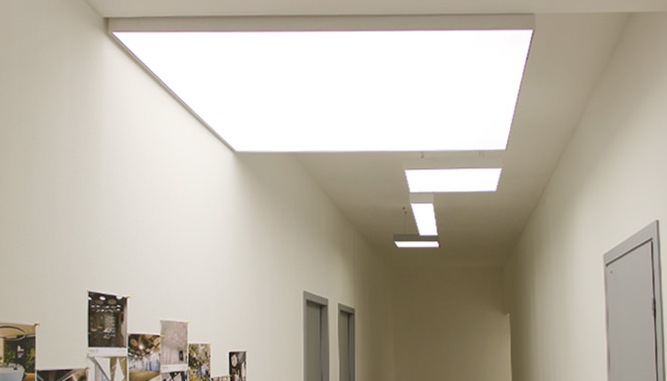 ADDITIONAL FEATURES
It is possible to create lamps of any, most original forms - they combine modern technologies of LED lighting tension systems.

Large-size fixtures provide unlimited possibilities for creativity - they can be used both in a single variant, and in composition of compositions.

Light ceilings allow to provide the necessary level of illumination and correspond to the style of the company. A uniform and scattered lighting of workplaces with no glare provides a comfortable and productive work of staff in these rooms.

Installation of light ceilings in medical institutions allows to achieve not only necessary shadowless lighting, but also to create a correct emotional mood with the help of elements of light design.

Our glossy ceilings reinforce the reflection of new polished cars, accurately directed light ceilings create a beautiful shine to show off every detail of the car, and acoustic ceilings allow you to control the sound within the room.
INSTALLATION OF LARGE-DIMENSIONAL LAMPS MAY BE MANUFACTURED:
directly to the main ceiling;

with the help of hangers on the cables.
BASIC PRINCIPLES
The technology of large-sized lamps is based on the use of unique technologies that allow to realize lamps of various shapes and sizes. This greatly expands the tools of designers and architects for the implementation of projects.

Thanks to dozens of different types of aluminum and plastic profiles, developed by our specialists, we can create any type or shape of three-dimensional luminaires. Built-in, hanging light boxes, frames, panels, arches - light ceilings can be done exactly as the designer intended.
In addition, an image can be applied to translucent membranes. Imagine an image of a blue sky printed on the stream or, on the wall, a sea with bright lighting. Or, along the entire perimeter of the wall - a beautiful night city with a panoramic view, where tall buildings radiate light. Or - an abstract vector image on a white translucent canvas in combination with RGB-backlight, periodically changing the color of your ceilings or walls. Having all these options for light ceilings and walls, the only limit to their decorative use ... is limited only by the limits of your imagination.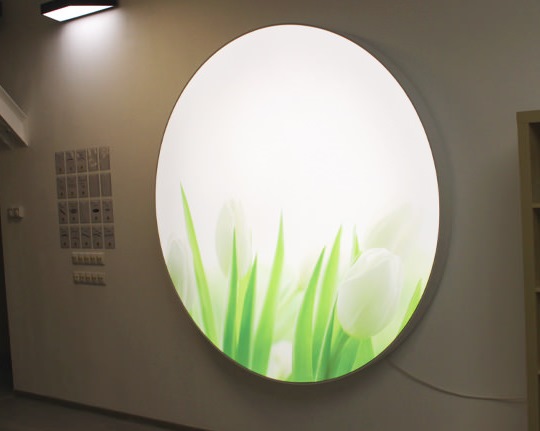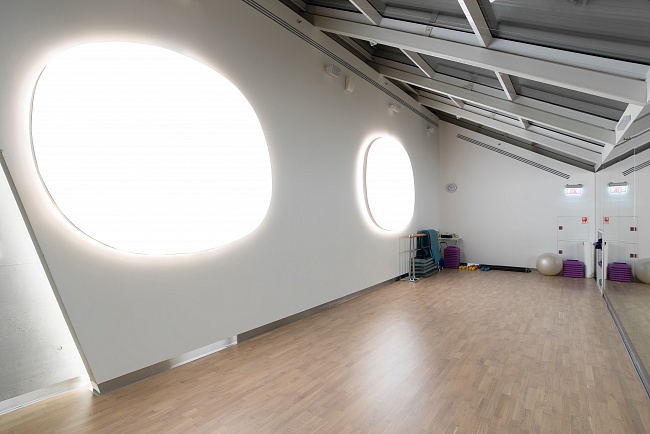 Where to order?
Our company offers the most high-quality and original large-size LED lamps. Ordering from us, you get the following benefits:
wide assortment of lamps of different shapes and sizes;

customized production;

high quality of all elements of the lighting device;

possibility of painting the lamp body in any color;

applying any image to the light surface by photo printing

operative processing of orders;

sending fixtures to any city in the country;

possibility to order a professional installation;

affordable price.
Control the light of the ceiling from any device convenient for you! We can develop for you the most convenient way to control the light, whether it's a standard key switch, touchpad or tablet and smartphone.
The application of a photo-print on a film makes it possible to create additional information spaces, allowing the visitor to navigate in an unfamiliar space.
We will do our best to make your interior look stylish and fashionable, and the lighting of a large area is qualitative and beautiful!