Exhibition Stand in Dubai
Imperial Interiors Company is among the best exhibition stand companies in Dubai!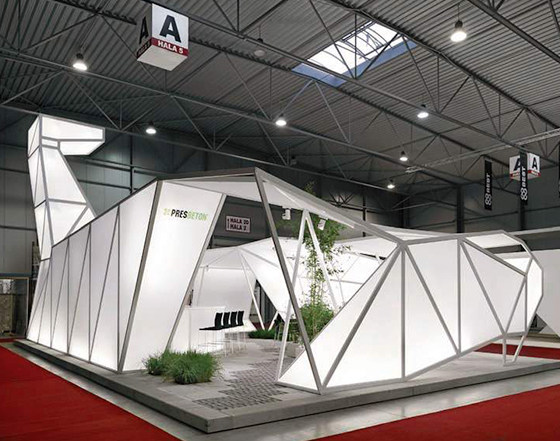 We work with brand owners, marketers and agencies to understand their marketing objectives, in order to offer much more than just an architectural solution. Brand reflection, ergonomics, visitor flow, sales interaction and commercial viability are at the heart of our solutions which are proven to deliver enhanced exhibiting results and greater ROI.
Imperial Interiors Company offers uniquely custom designed stands, which combine the versatility of modular architecture with custom features. With fully delivered solutions available for purchase or hire, plus our self-build and portable systems, we can offer the right choice of stand for you, regardless of exhibiting location, scale, frequency, budget and ambition. Call us and order cheap exhibition stand in Dubai!
Exhibition Stand in Dubai
With the help of event engagement agency "Creative Bridge", we integrate creative graphic design and compelling digital engagement tools which enhance visitor engagement, interaction and lead generation. Imperial Interiors passionate, experienced and award winning teams will make you stand out on the exhibition floor every time.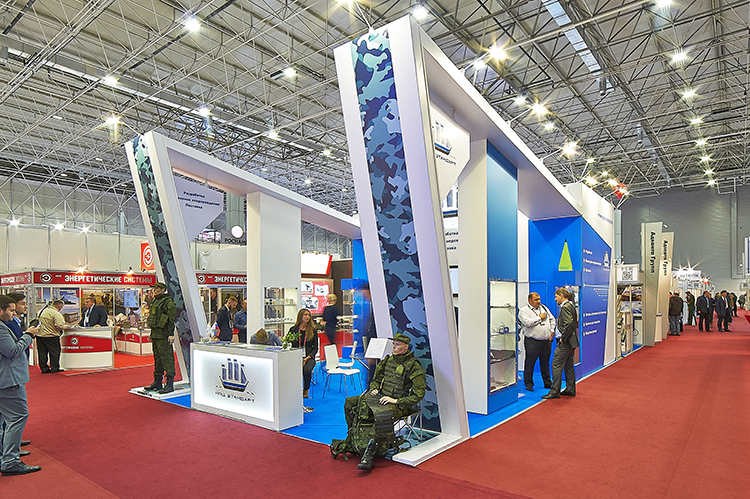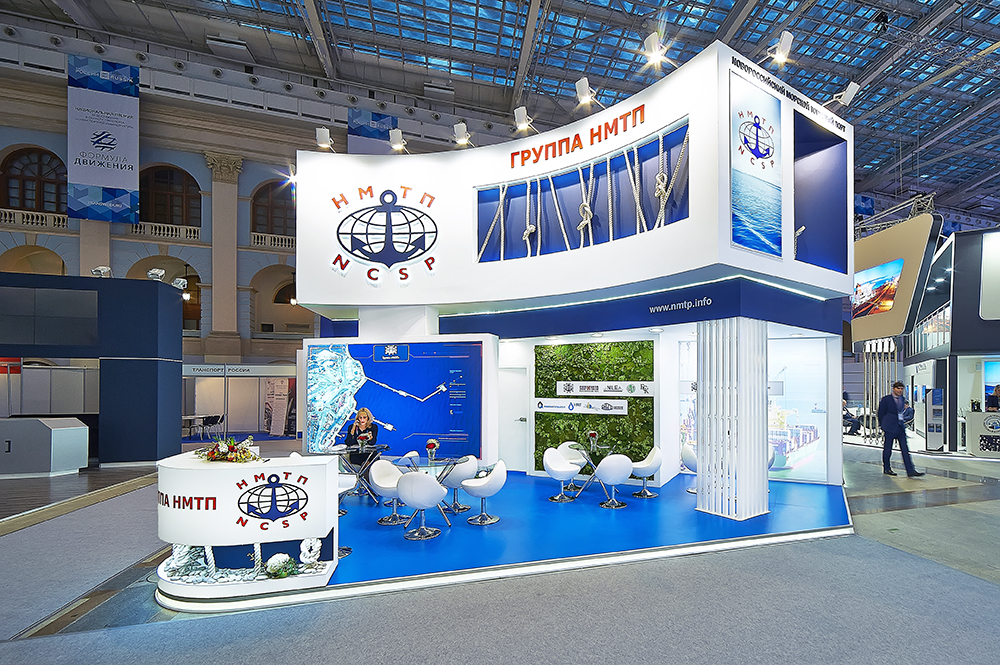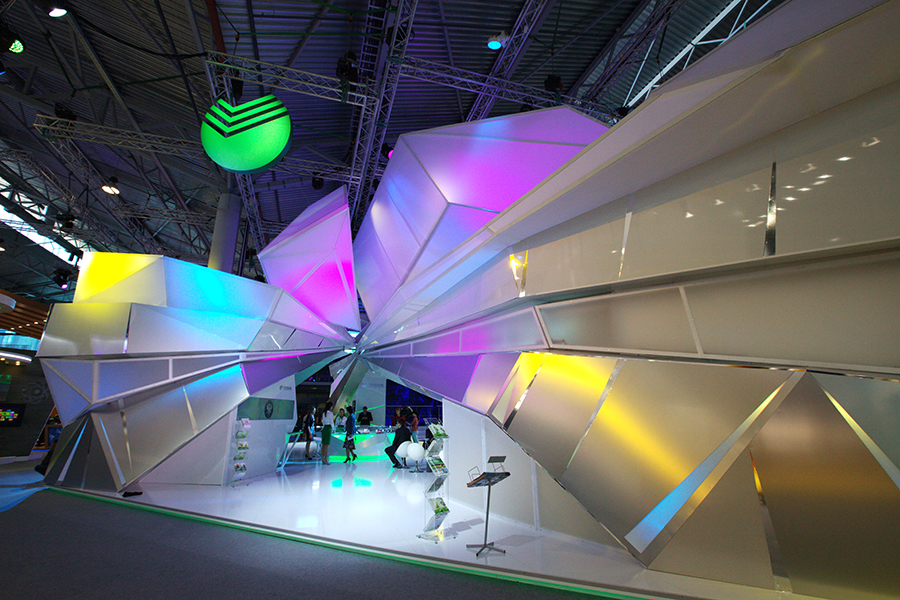 IMPERIAL - exhibition stands in UAE and abroad
The construction of stands for exhibitions is the specialization of our company .
Development of the exhibition stand design project is a complex creative process, requiring professionalism and involvement: constantly being in search of new ideas and approaches to design development, we use innovative materials and achieve the perfect quality of the stand of the customer company. Our goal is to translate any of your ideas.
We know how to draw attention to your stand. Combining the wishes of the customer with the functionality of the exhibition structure, its concept, stylistics, location at the exhibition, we achieve the most favorable efficiency / cost ratio. Our prices are formed based on the needs of the customer.
In our company you can make an order for stands for exhibitions in UAE, ME countries and abroad of any size, style and concept.
The largest number of orders for exclusive exhibition stands in UAE we receive from Dubai and Abu Dhabi , since Dubai and Abu Dhabi are the most popular regions for exhibitions. But our professional activity extends far beyond UAE!
We organize exhibition events on a turn-key basis and build stands in any country of the world, there are no restrictions on geography of activity.
One of our key areas is holding business events, such as grand opening, conferences, forums, round tables - all that is related to the conduct of business events of this kind - the scope of our professional interests.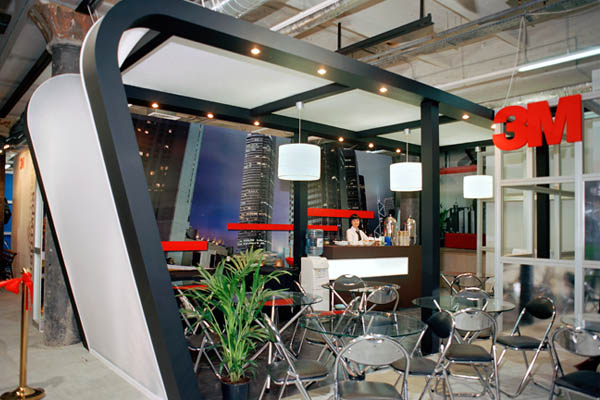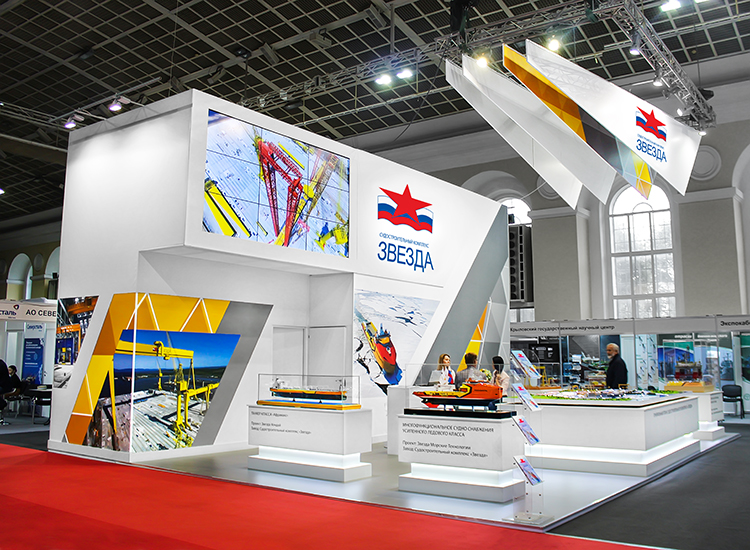 The projects of our team are multiple holders of certificates and diplomas in design competitions.
If you want to get a really good result from the construction of exhibitions, it is desirable to order the production of stands from the beginning to the end of one contractor. For more than 10 years we have been making turnkey stands for exhibitions: we generate an idea, develop a design and concept, carry out production and installation, and also conduct current and final quality control. Add a full range of exhibition services and 24/7 service - and here is the recipe for an ideal booth! Having our own production, our team knows how to build an exhibition stand even in a short time.
We will develop a unique design that will help your stand to stand out! Our team will arrange it with florist, multimedia, content, decor, printing, souvenirs. If you, in addition to organizing the stand at the exhibition, need the manufacture of clothes for the staff, placement and decoration of showcases, additional advertising and information stands, we will provide everything necessary, we will help to conduct a promotional campaign to attract customers and do everything necessary to successfully conduct your event. Our company is a guarantee of the effectiveness of your participation in the exhibition.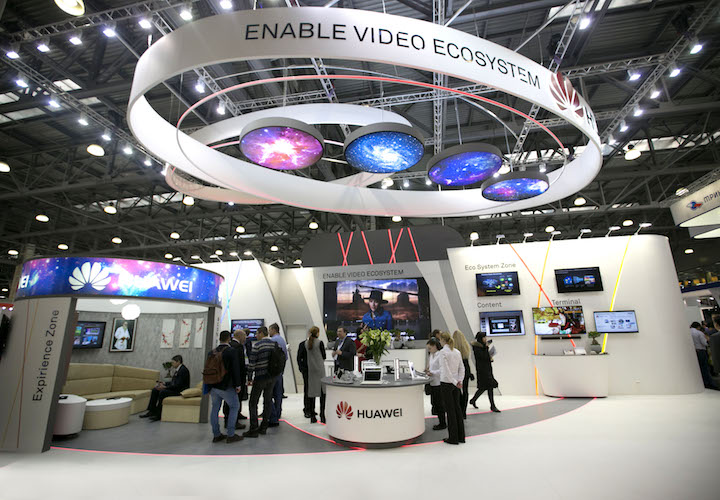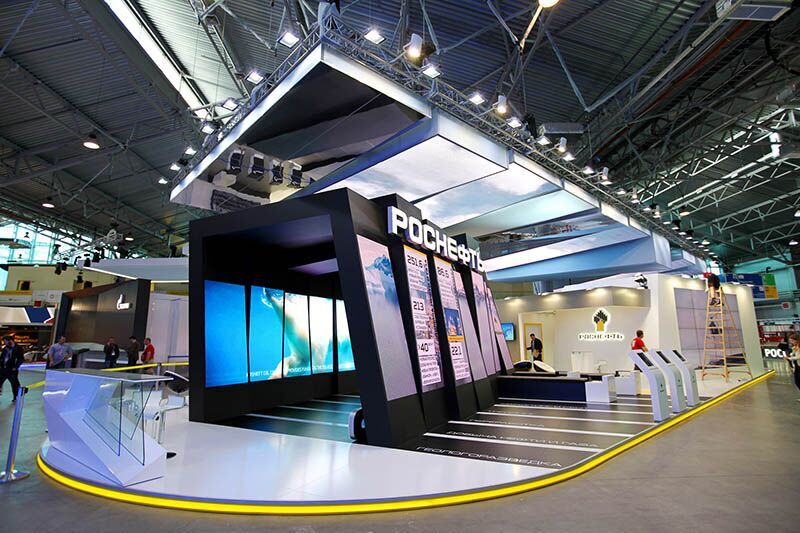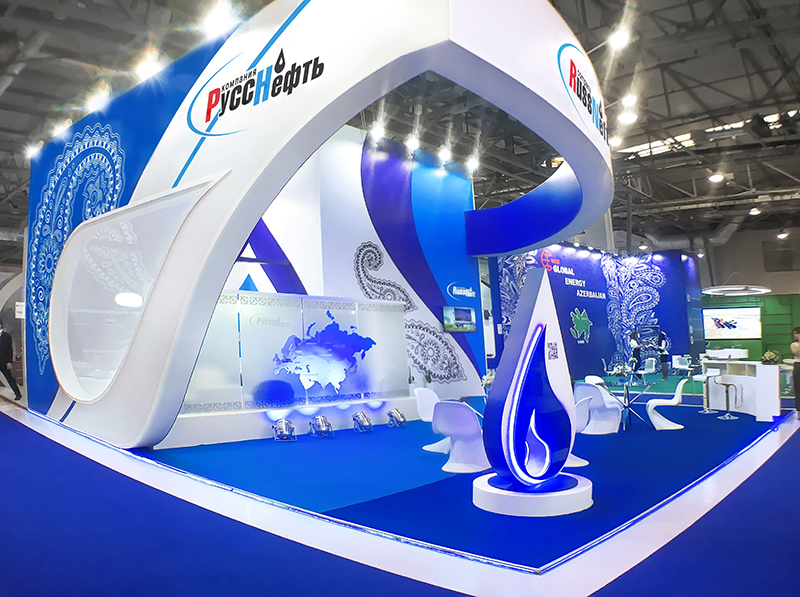 What is the exhibition stands.
For some customers this is a good business platform for demonstrating production innovations and communicating with partners. For other companies, the exhibition stand is part of a successful image. But for all without exception, the exhibition stand is an indicator of the success of the exhibiting company at the exhibition.
The exhibition stand begins with a design. This can be a functional business-level exhibition design, or maybe a huge palace for the reception of guests. Each project is unique, each stand is different in its own way. We do all kinds of stands for exhibitions.
We have a vast geography of projects in UAE and abroad. We build individual stands in Dubai, Abu Dhabi and further all over the world. In any country, our team can make a turn-key stand, whether it's a simple advertising stand or a complex individual stand with an accompanying complex of exhibition services.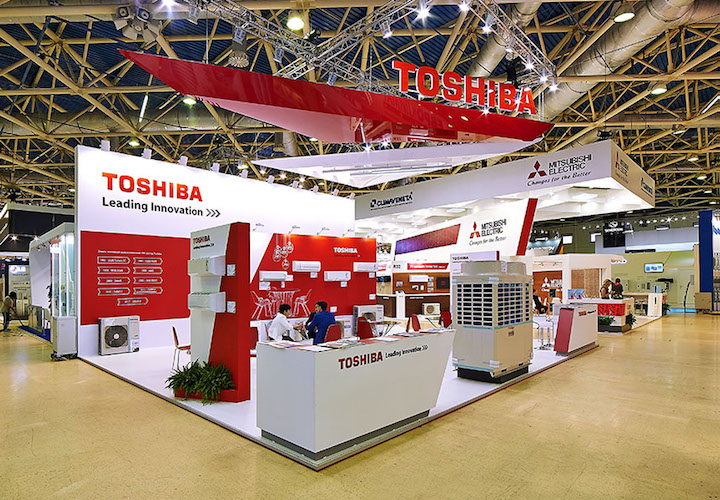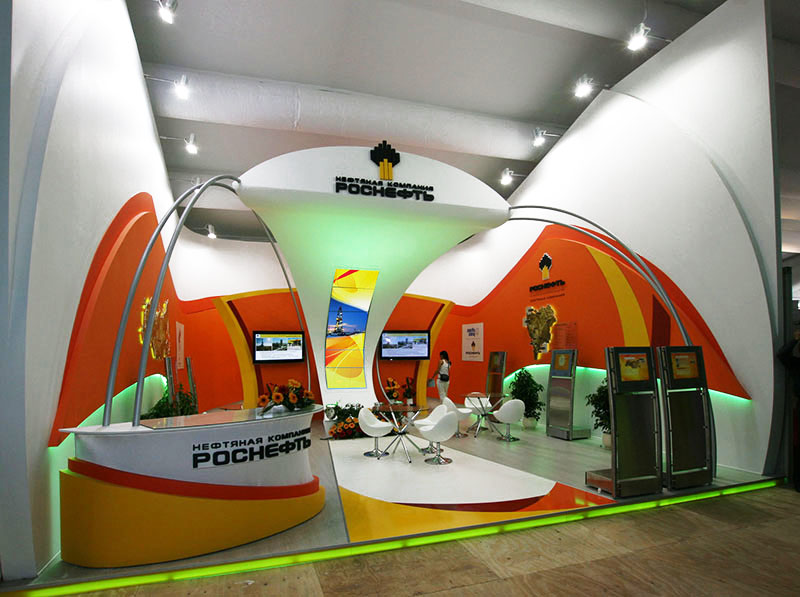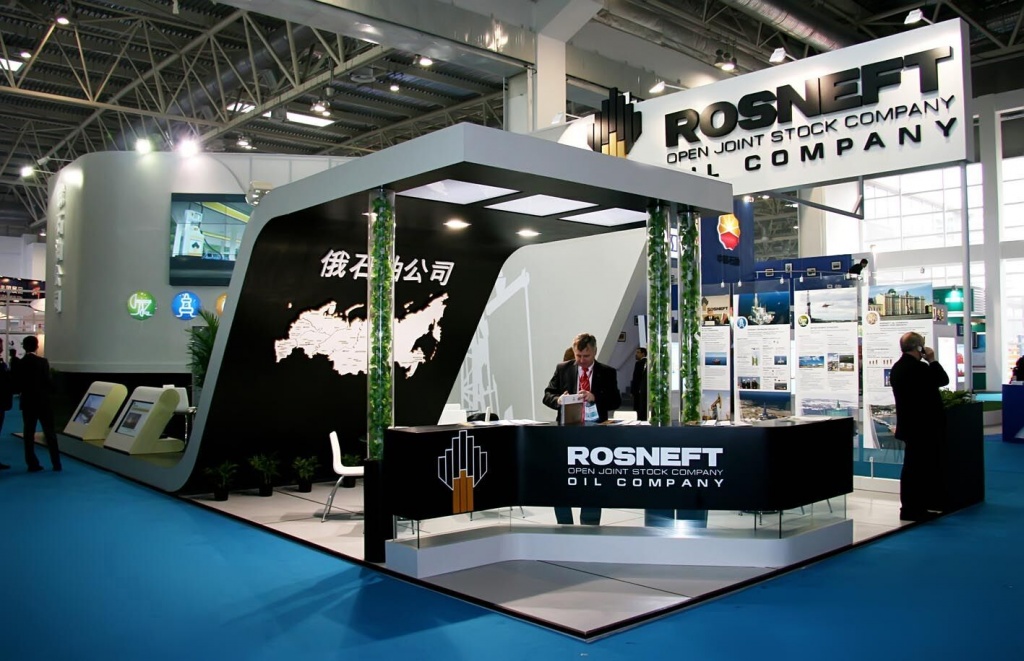 Design and construction of exhibition stands
The production of exhibition stands is done using the technology of prefabricated structures. Frame - MDF or metal, lining with wood, banner fabric, various modular panels and decorative light elements. The construction of the stand is often limited in time: the stand must often be assembled in 3-4 days and disassembled in one day. Often, the technology of building stands limits bold design solutions, but not for us! Because: the qualitative design of exhibition stands is a successful embodiment of the most innovative ideas.
The creative idea is the basis for the design of the exhibition stand. The development of stands requires maximum professionalism from designers. Creating a high-quality and functional design is not an easy task, there are many limitations on materials and design features. But if you go from the opposite - first create an interesting idea, and then come up with how to implement it - then a real individual and creative project is born! And, although it is often difficult to make such a project, we are proud that in our piggy bank more than 1000 realized projects of exhibition stands.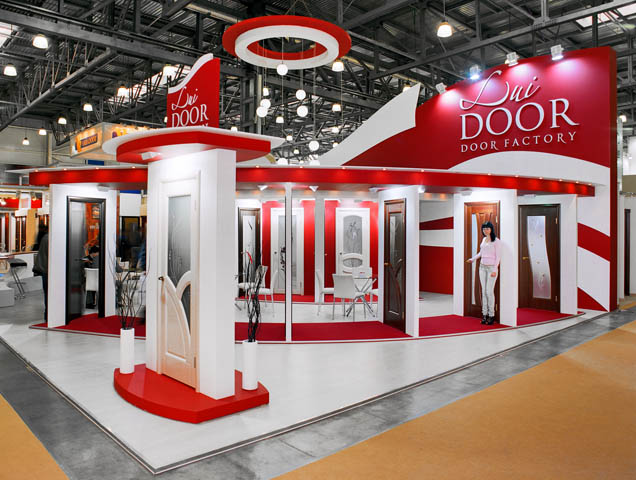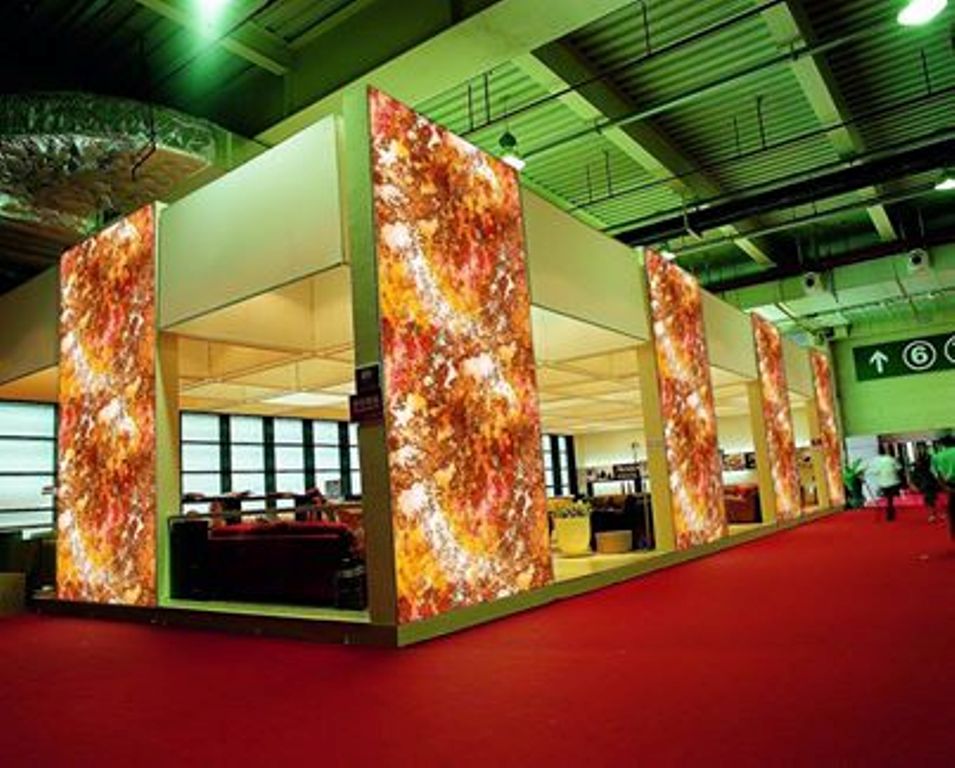 Types and types of exhibition stands.
Stands for exhibition expositions are divided into 2 categories: standard building and exclusive exhibition stands. Our company specializes in exclusive exhibition stands, carrying out works on a turn-key basis: from development to building.
Exclusive - or non-standard stands are always made on a new, individual design. But this does not mean that such stands can afford only large companies with large budgets - we can always offer an original design and at the same time budget solution. The secret is to use unusual and inexpensive materials in the design, a bright graphic solution, a memorable image.
More details about the category of stands in the ratio of prices for them can be found here.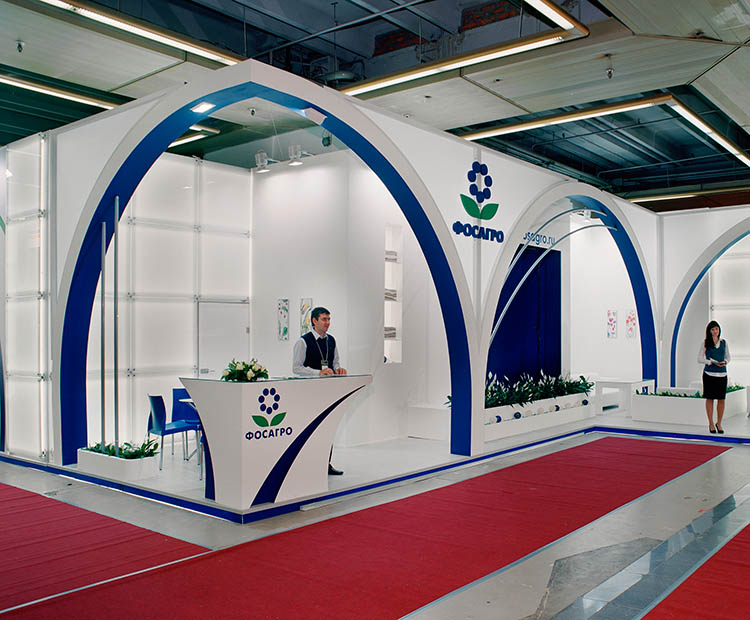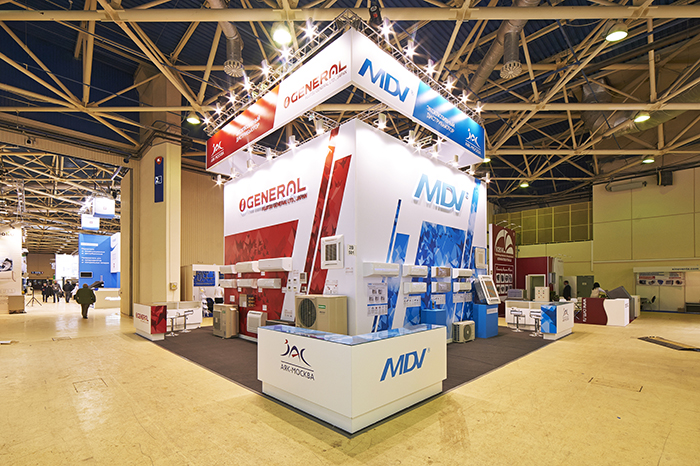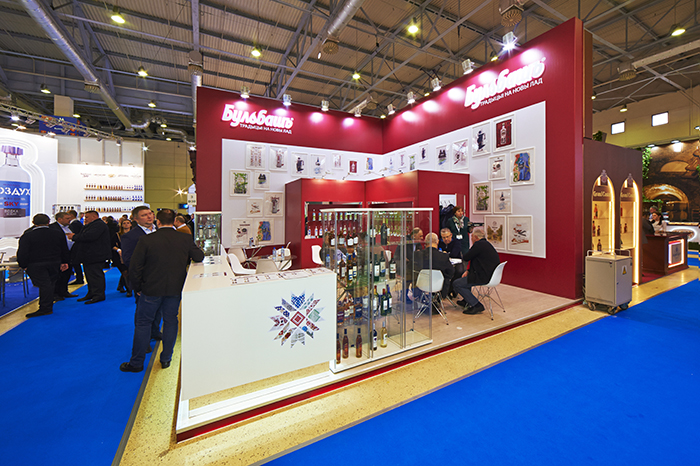 We conditionally divide our stands into four categories:
Business stands. The main criterion - the price and functionality, but it is not a standard development.
Stands Business category plus. Functionality, convenience and reasonable budget with original design.
Stands Premium. This is a complex design, often with the addition of multimedia solutions, interesting details, designer light, average difficulty and price.
Stands of Premium Plus category. Premium materials in the lining, a lot of multimedia solutions, the presence of additional services of the exhibition service, a large area and budget.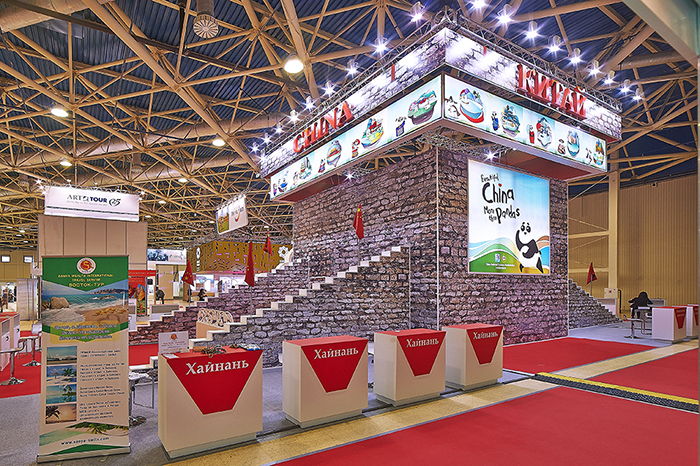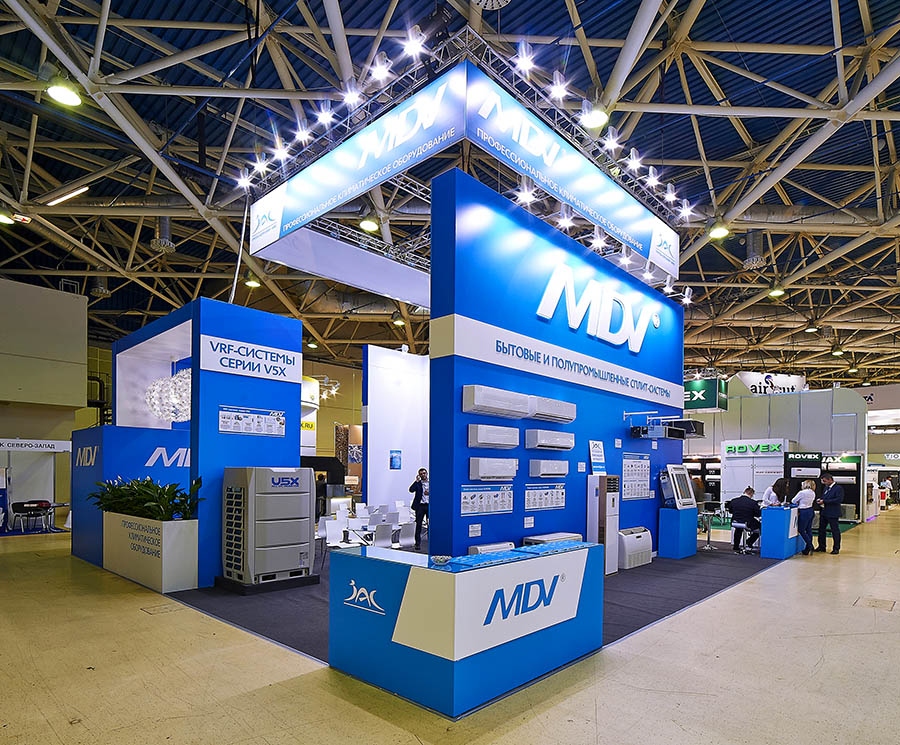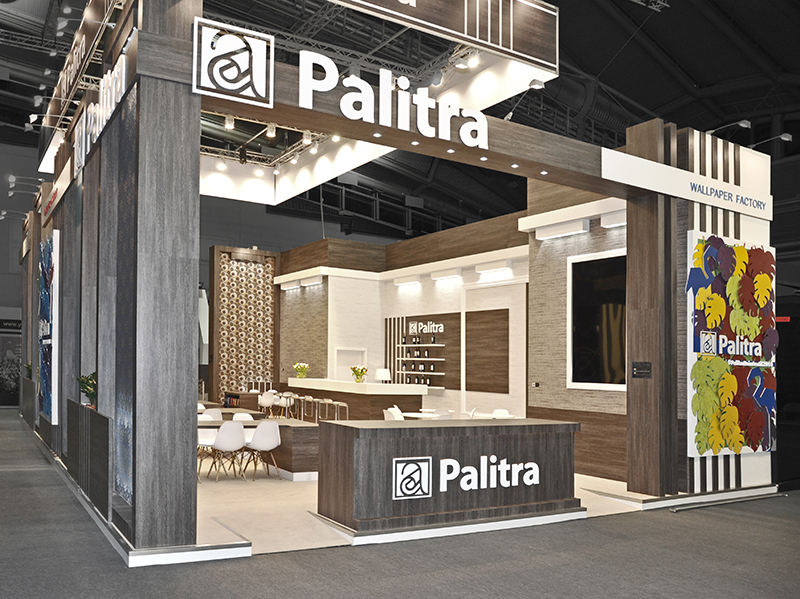 Stages of the exhibition stands.
The embodiment of the exhibition project is a complex and multistage task, involving all: designers, engineers, managers, foremen, installers, contractors.
The implementation of the project of the exhibition stand requires the maximum involvement of the working group. In the event business, with clearly defined deadlines for the delivery of a project, such as exhibition construction, teamwork and prompt response at all stages of project implementation are very important.
The exclusive exhibition stand consists of many parts and stages of work, the number of which can reach 500 iterations for the whole way of the stand's realization - from design to construction and installation.
And, since the stand building is always limited by the time of installation, none of the team has the right to make a mistake. In the construction of exhibition stands, team-based teamwork is most important in the 24/7 mode.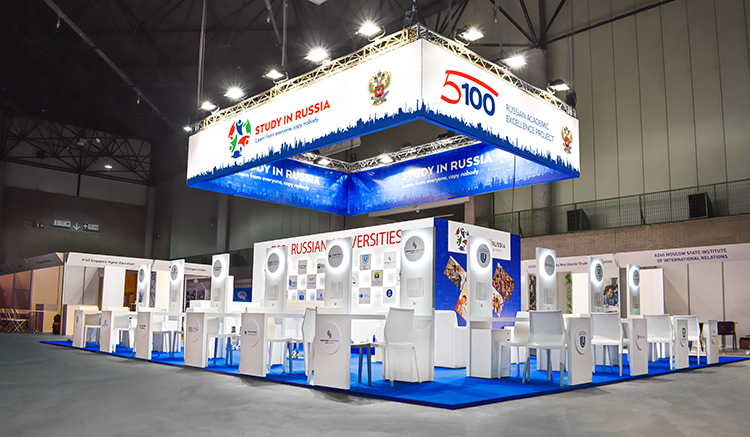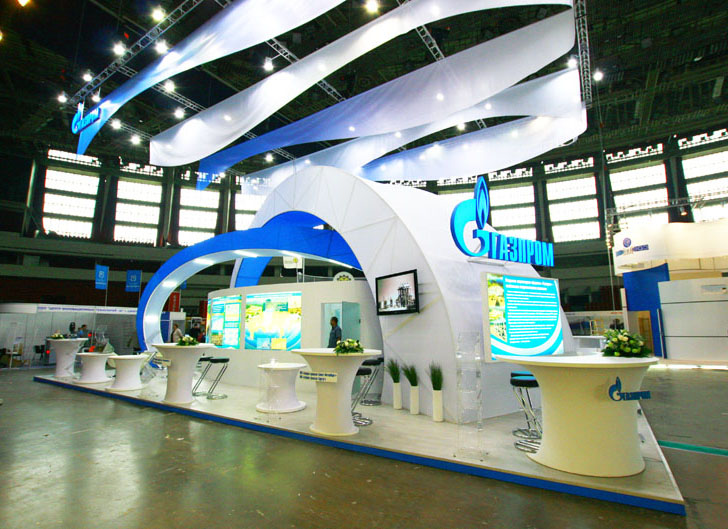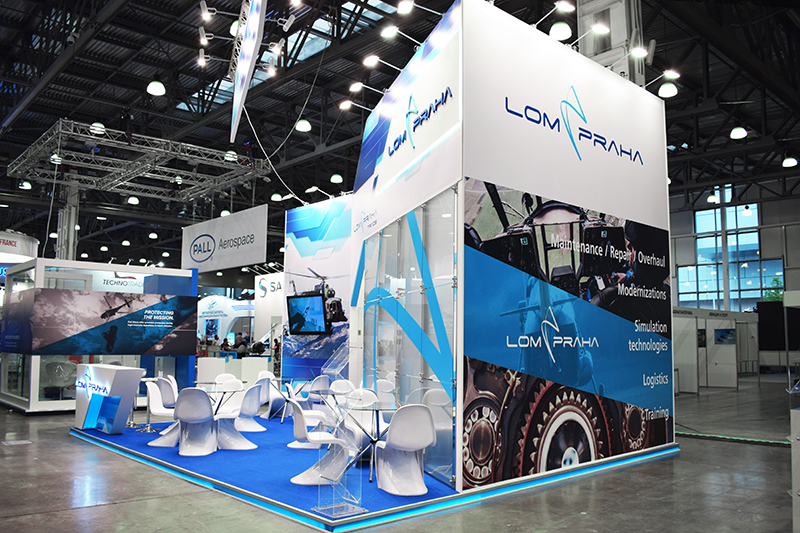 Here is an enlarged example of the stages that we are going through, embodying our exhibition projects:
Development of the concept of the project, its visualization
Project change and specification
Contractual and estimate documentation
Technical documentation and engineering drawings
Delivery of the project to production, purchase of materials
Creating multimedia content
Creation of polygraphic and souvenir materials
Rent of additional equipment
Rental of additional services (floristics, catering, etc.)
Preparation of the stand in production
Logistic work
Accreditation of the stand on the site
Installation and construction of the stand
Start-up of equipment, testing of content
Final decoration and floral works
Cleaning and delivery of the stand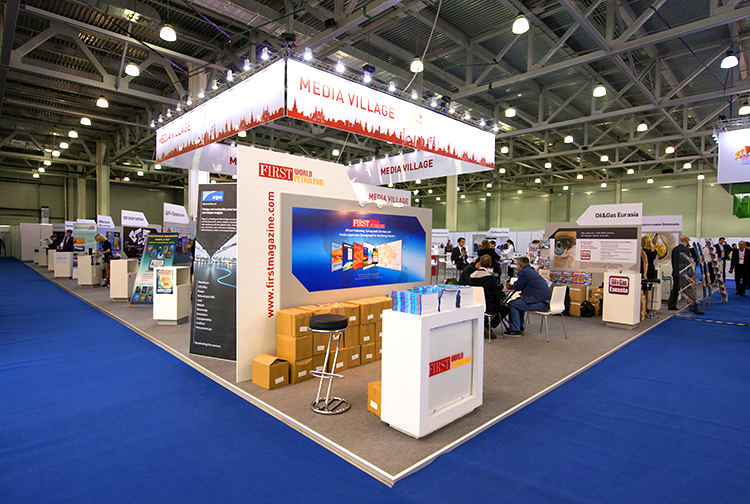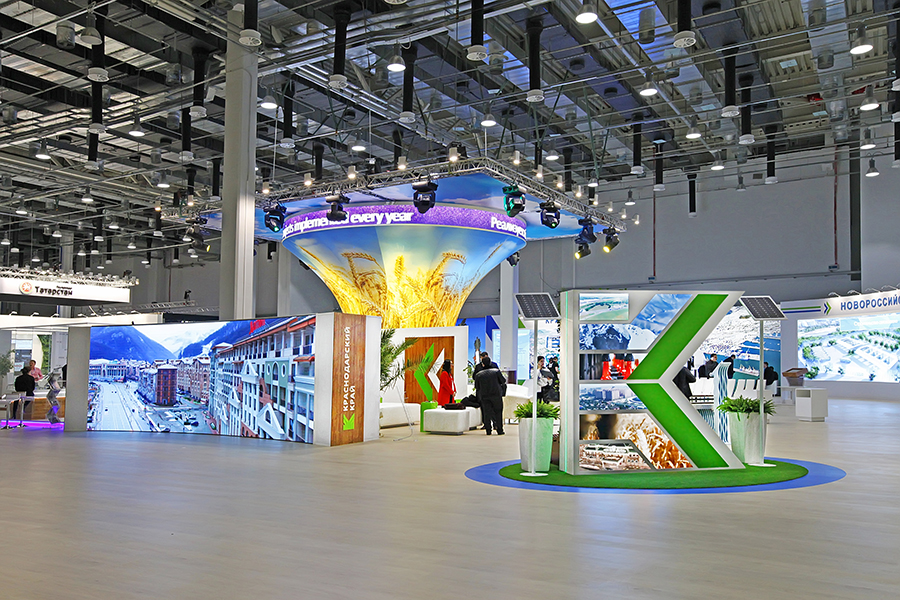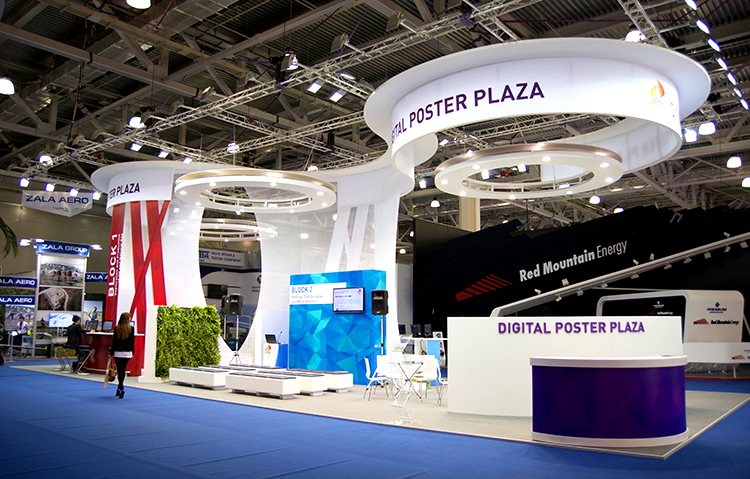 Prices for exhibition stands
You can order an exhibition stand from us at an adequate cost.
More information about prices for exhibition stands can be found contacting us. The cost of the stand is influenced by many factors: the stand area, the complexity of the design, the abundance of decorative elements, the premium materials, the manufacture of items to order, etc. We can offer an original solution for any budget.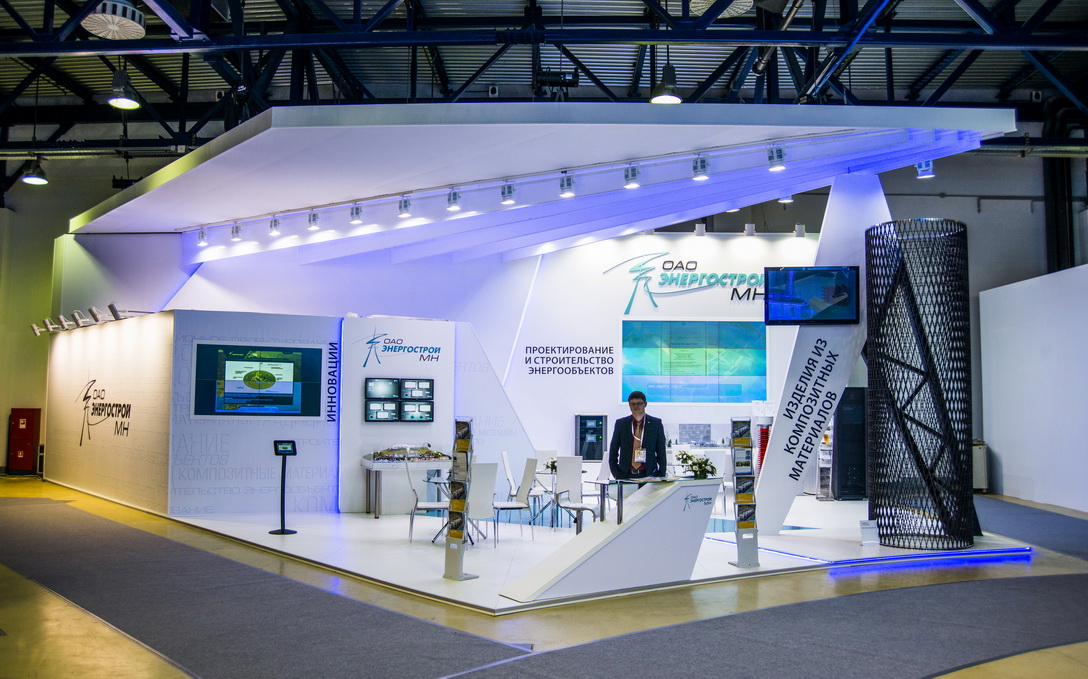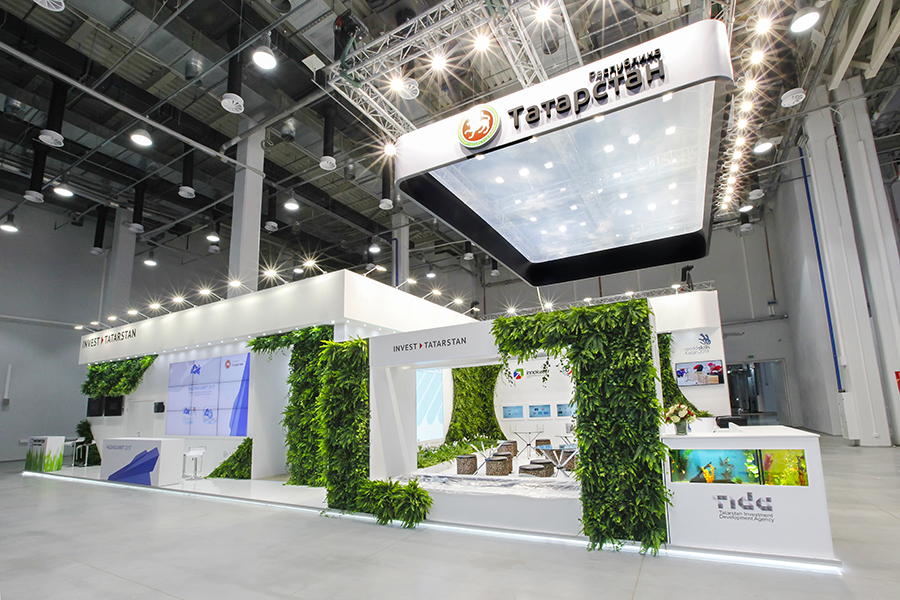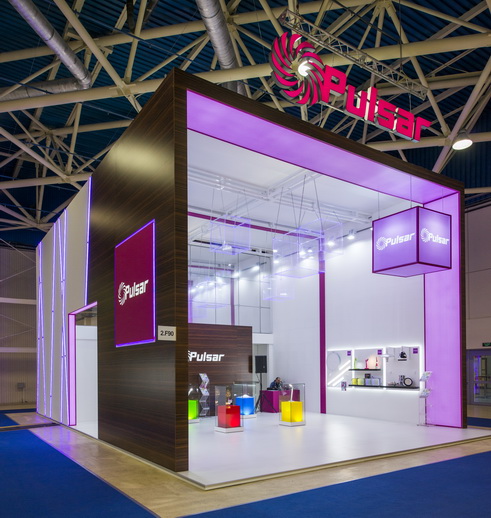 Exhibition stand construction
For the successful implementation of the project, it is extremely important that the team interacts smoothly at all stages of the work, from manufacturing to construction and delivery of the stand. We have our own production, which for many years produced exclusive stands of varying complexity. Addressing to our company, you can be calm that the construction of the exhibition stand will be completed on time. Installation is carried out by experienced builders, with observance of all standards.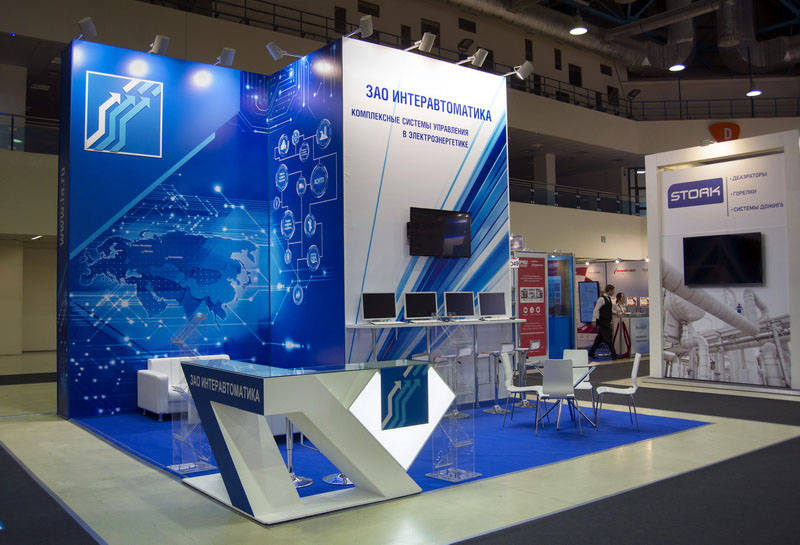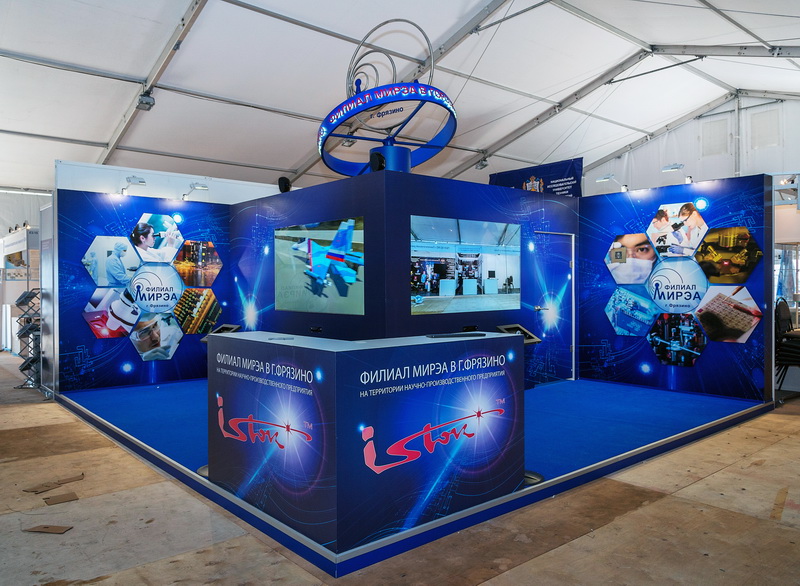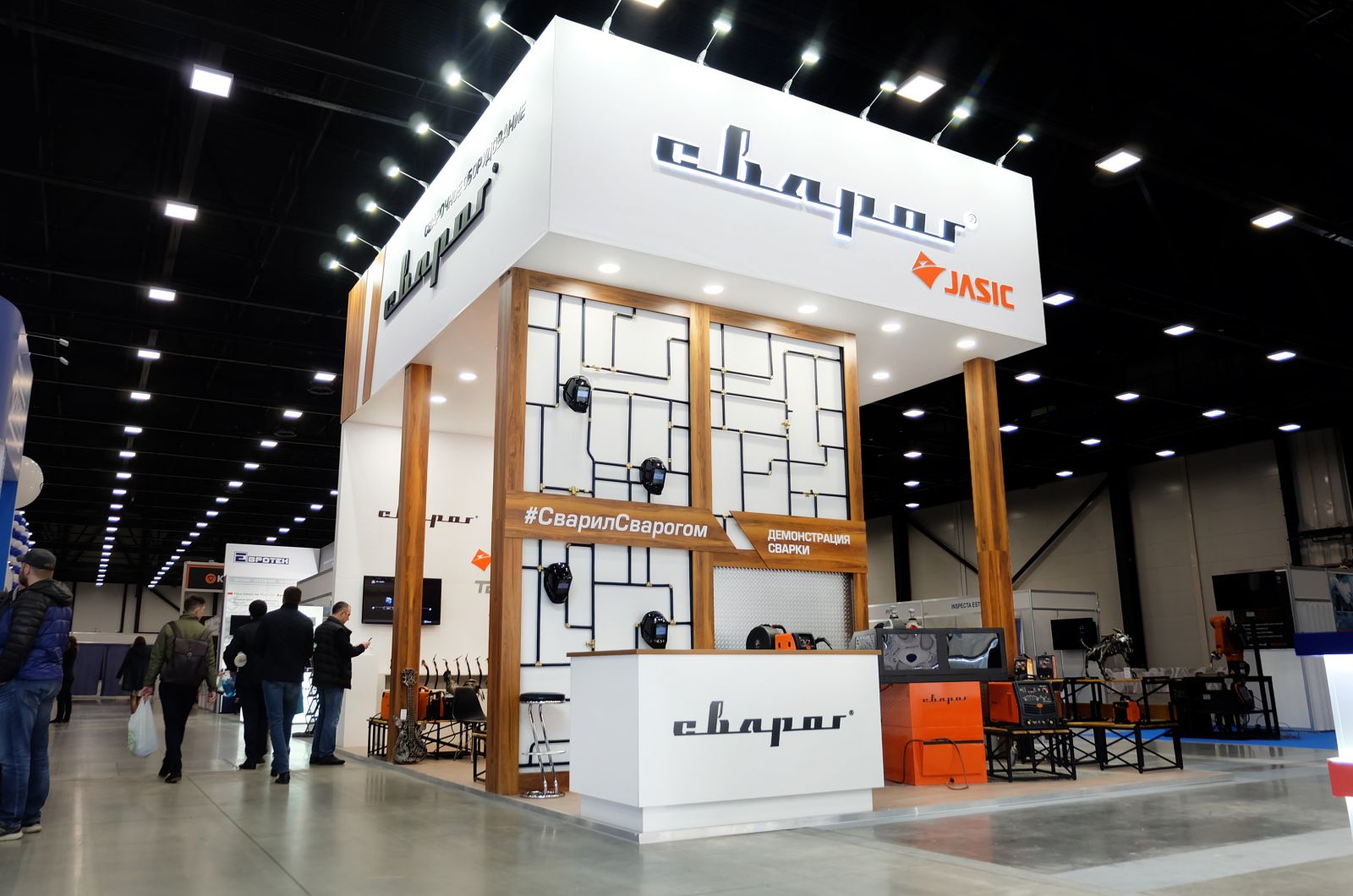 Design of exhibition stands
At the heart of the functional and quality stand for the exhibition is a creative idea that meets all the design features and limitations of materials. On our account there are more than 1000 stands that have passed all the stages, from the development of the idea to the full implementation of the project!
We will select the brightest graphics solutions and create a memorable image. Thanks to our experience, we know how beautiful and inexpensive to arrange an exhibition stand for companies with a limited budget.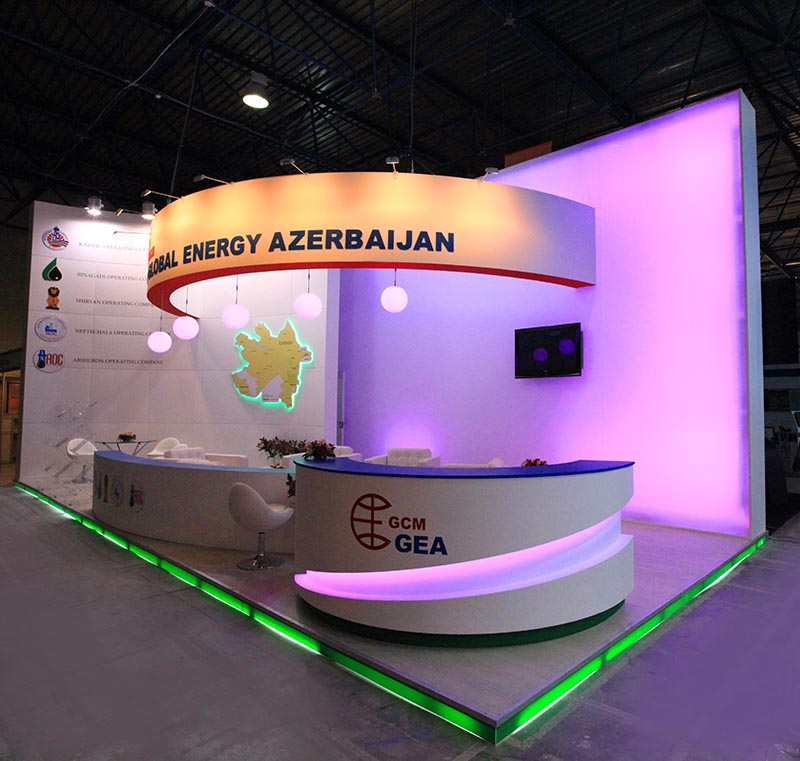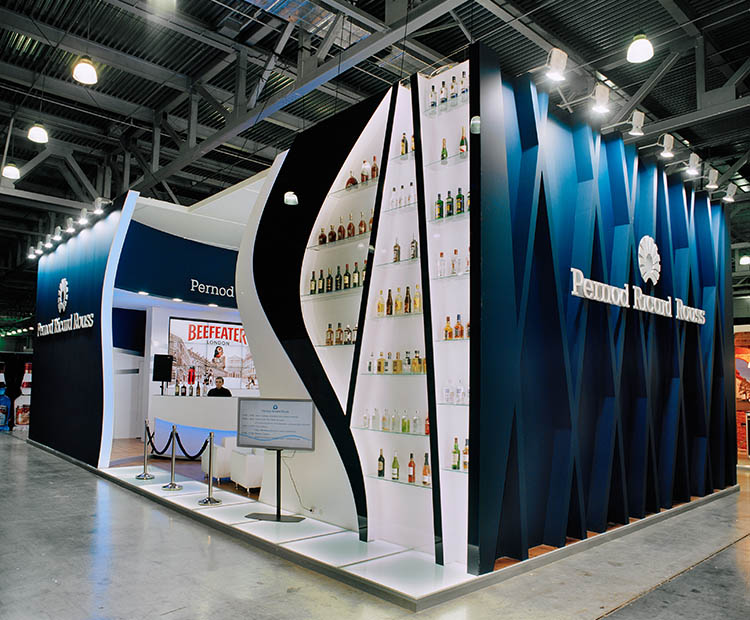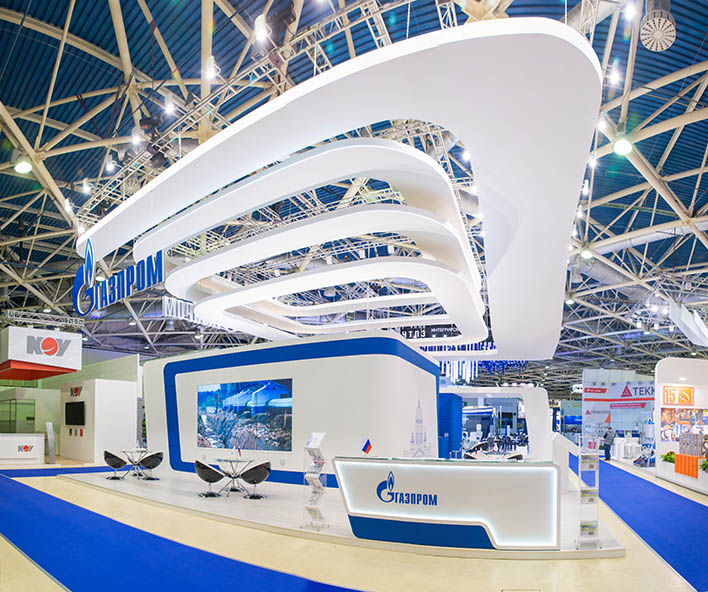 Imperial Interiors combination of creative architectural solutions and engagement tools really do raise the bar. Our company is recognized as one of the best exhibition stand builders in Dubai!
You need to see it to believe it!
Imperial Interiors is one of the biggest exhibition stand companies in Dubai, offering design, manufacturing and installation different kind of exhibition stands.